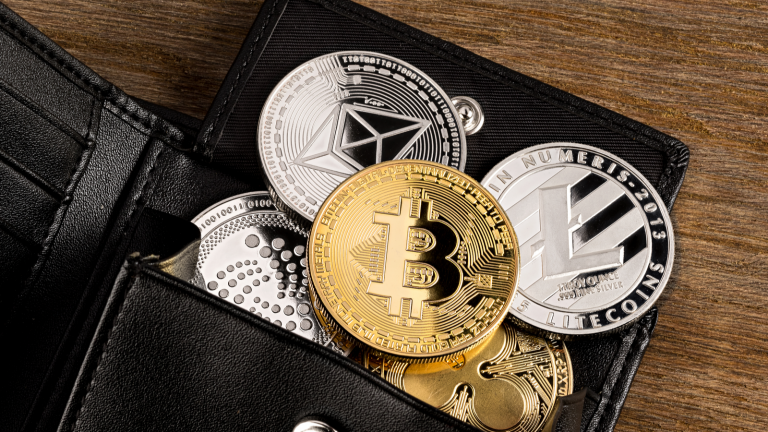 Source: stockphoto-graf/ShutterStock.com
Crypto is climbing higher on Tuesday. As one would expect, Ethereum (ETH-USD) and Bitcoin (BTC-USD) are helping lead the charge. They are up about 9% and 3.5% so far today, respectively. But this has investors asking a simple question: Why is crypto up today?
It appears that there are several catalysts for the rise.
First, we can't ignore the rise in U.S. equities. While crypto does not have a 1:1 correlation with U.S. stocks, they do tend to trade in similar directions.
Further, many investors thought Bitcoin would be a great hedge against inflation. Maybe it was, if you count the high-growth stock rally in 2020 and part of 2021 as an inflation trade. Otherwise, it turns out that Bitcoin — and thus, crypto — has a higher correlation to growth stocks than it does to inflation readings.
So why is crypto up today? A rally in tech stocks and perhaps just as important, a decline in the U.S. dollar is helping to spark a "risk-on" rally and making other assets more attractive. Thus, crypto is on the move higher.
So, Why Is Crypto Up Today?
The rise in U.S. stocks and risk-on assets is only one reason why crypto is rising on the day. The other reason is much more direct. Lawmakers in the U.K. have voted to recognize crypto as "regulated financial instruments."
While we may not be doing away with the U.S. dollar or any other major currency in favor of a cryptocurrency, the U.K.'s decision adds legitimacy to the asset class.
"The substance here is to treat [cryptocurrencies] like other forms of financial assets and not to prefer them, but also to bring them within the scope of regulation for the first time," said parliamentarian Andrew Griffith, as reported by Coindesk.
The vote passed the House of Commons, which is the lower house of the Parliament. Before it can become law, it must then be voted in favor by the House of Lords, which is the upper house of Parliament. Lastly, the "amendments are given a final consideration followed by royal approval by King Charles III."
Further, following Liz Truss' exit last week, Rishi Sunak has been chosen as the country's next prime minister.
Sunak previously served as the chancellor of the exchequer — the finance minister — and was pro-crypto in his time at the post, which lasted from February 2020 to July 2022. During his time in the role, Sunak wanted "to turn the U.K. into a crypto hub."
Putting all of these catalysts together has really helped crypto, particularly on Tuesday.
On the date of publication, Bret Kenwell did not have (either directly or indirectly) any positions in the securities mentioned in this article. The opinions expressed in this article are those of the writer, subject to the InvestorPlace.com Publishing Guidelines.


Read More: Why Is Crypto Up Today?

Disclaimer:The information provided on this website does not constitute investment advice, financial advice, trading advice, or any other sort of advice and you should not treat any of the website's content as such. NewsOfBitcoin.com does not recommend that any cryptocurrency should be bought, sold, or held by you. Do conduct your own due diligence and consult your financial advisor before making any investment decisions.