Top Trending Cryptos to Buy Now September 27th – XRP, MIOTA, TAMA, APE, QNT | NewsBTC
While Bitcoin continues to battle to gain ground above $20,000 after last week's interest rate hike, there are a number of top trending cryptos to buy now as we reach the end of September.
Even with Ethereum struggling to end the depressing market trend, these altcoins are finally starting to show some form of life within the market.
Here are some of the top trending coins to buy today – 26 September
With Ripple going head-to-head with the SEC (looking to come out on top), XRP is leading the charge in the trending tokens.
Additionally, MIOTA is trending after its technology is integrated into hardware, and APE is moving as it introduces a staking program. Furthermore, TAMA is about to have the biggest IEO launch of the year, and QNT is surging as social contributors hit the highest level in 90-days.
XRP Leading Battle Against SEC
XRP might be down 6% on the day but is still up by a very strong 32% over the week as the cryptocurrency heads back above $0.46.
The cryptocurrency started to surge last Tuesday, September 20th, after news circulated that Ripple was showing promise in the lawsuit against the SEC. Ripple is battling to prove that it has not violated any SEC laws with the digital currency XRP and they continue to believe that it is not a security.
The case is now proceeding to a summary judgment, indicating that the case could be starting to approach the closing phases of the proceedings. If Ripple does come out on top, the overall market could see an exciting relief rally.
Looking at the XRP/USD daily chart, XRP is up by a strong 61% from the cycle low beneath $0.28. The coin was sitting in a sideways trend from June through to mid-September as it traded between $0.28 and $0.4. Last week's break above $0.4 saw this sideways range be penetrated, pushing XRP above resistance at the 200-day MA level – causing it to reach as high as $0.55.
It has since dropped below $0.5, holding a $23 billion market cap value.
MIOTA Pushes Higher After Technology Integration and APE Introduces Staking
MIOTA is up by a strong 8% today after the cryptocurrency reclaims territory above $0.3. The cryptocurrency is up by a further 19% on the week, pushing the market cap for the token back above $840 million.
MIOTA is surging after the IOTA technology was integrated into a traffic pole prototype through Project ALFRIED. Project ALFRIED is a public-funded infrastructure project in Germany, and the latest integration uses the IOTA protocol as its core technology.
The news helped to lift IOTA back above $0.3 today as the cryptocurrency pushes back above the 100-day MA to break above $0.3.
The $840 million market cap for IOTA puts the cryptocurrency in the 55th ranked position as of Monday, September 26th.
ApeCoin is also starting to see some positive traction as the coin is now up a total of 28% from the September lows of $4.17. The crypto token that powers the Bored Ape Yacht Club NFT collection started to surge last week as the cryptocurrency's staking platform draws nearer.
Horizon Labs released a sneak peek of Ape Staking earlier in the month, which will offer token rewards to users who stake ApeCoin, Bored Ape NFTs, and Mutant Ape NFTs.
The latest developments caused a slight surge in the market as the coin started to climb back above the 100-day MA. It continued upward to reach as high as $6.40 but could not close a daily candle above $6. Once $6 has been cleared, the market will be able to rally higher toward the August highs of around $7.70.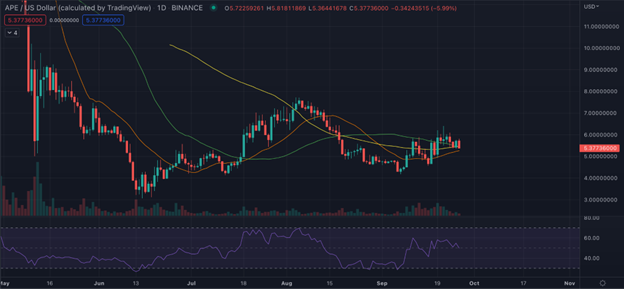 APE is now ranked in the 33rd position as it currently holds a $1.65 billion market cap value.
Tamadoge Set for Biggest IEO Launch of the Year
Tamadoge's native token, TAMA, is set to launch tomorrow September 27th, on the tier-1 OKX exchange. The token will be available for trading at 11:00 UTC time.
The highly anticipated deflationary memecoin project completed its record presale after managing to raise a total of $19 million well ahead of schedule. Users that participated in the presale will be able to claim their tokens on the project's official website at 07:00 UTC on September 27th, ahead of the launch on OKX.
Furthermore, the token will be added on OKX DEX later in the day at 17:00 UTC for those unable to trade on the centralized exchange for regulatory reasons.
The exchange announcement was huge news as investors speculated on which exchange the token would launch. OKX has a daily trading volume of around $2 billion and is the second-ranked exchange on CoinGecko's "Top Exchanges Ranked by Trust Score" rankings.
With the official public launch of the token finally scheduled, many analysts are predicting a 50x gain from the play-to-earn memecoin project due to its mass-market appeal that is accessible to everyone. Furthermore, Tamadoge has a well-defined roadmap that outlines metaverse partnerships, and a Tamadoge Augmented Reality application to bring the Tamadoge Pets to life in 2023.
Overall, the developers of Tamadoge have done their utmost to provide utility to all TAMA investors and are starting to make good on all of their goals so far.
QNT Sees 12.5% Price Surge as Social Contributors Hits 90-day High
QNT is up by a strong 12.5% this week as the cryptocurrency climbs the market cap rankings to hit the 39th position. QNT has been bucking the overall market downturn since June after surging by a total of 185% since the cycle low of $40. It currently is trading at $114 as it looks to break resistance at $120 and make another attempt at the August highs of $133.
QNT is surging due to its long-term outlook driven by its Overledger solution. The following Tweet thread perfectly outlines why investors are starting to run back to the altcoin.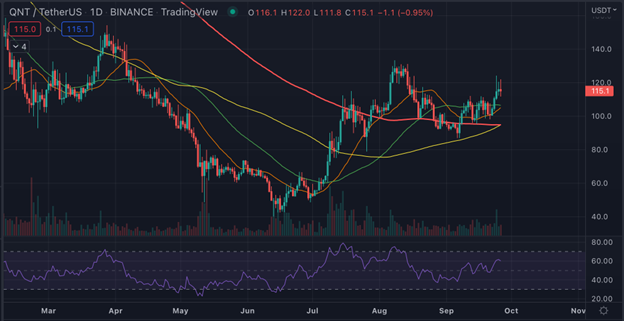 Looking at the chart above, we can clearly see the 185% price surge from June. The market dipped slightly in August but has found support in September and is pushing higher again. A break above $133 could allow QNT to break $150.
Website: https://tamadoge.io/
Twitter: https://twitter.com/Tamadogecoin
Telegram: https://t.me/TamadogeOfficial
Discord: https://discord.com/invite/Z2PqFvsXJa
Instagram: https://www.instagram.com/tamadogecoin/
Disclaimer: This is a paid release. The statements, views and opinions expressed in this column are solely those of the content provider and do not necessarily represent those of NewsBTC. NewsBTC does not guarantee the accuracy or timeliness of information available in such content. Do your research and invest at your own risk.




Read More: Top Trending Cryptos to Buy Now September 27th – XRP, MIOTA, TAMA, APE, QNT | NewsBTC

Disclaimer:The information provided on this website does not constitute investment advice, financial advice, trading advice, or any other sort of advice and you should not treat any of the website's content as such. NewsOfBitcoin.com does not recommend that any cryptocurrency should be bought, sold, or held by you. Do conduct your own due diligence and consult your financial advisor before making any investment decisions.