Silver Prices Can Thrive In Crypto Winter – ValueWalk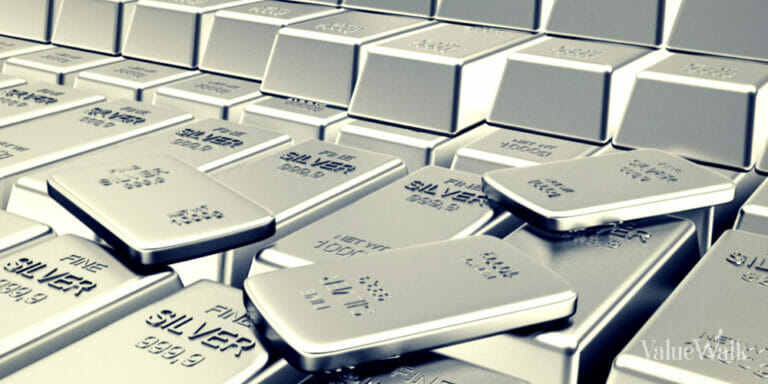 Winter has come – at least for the cryptocurrencies. Could precious metals benefit from it, and in what way?
Winter has arrived. Crypto winter! What is it? Well, it's a period of declining or sustained lower cryptocurrency prices. There is a big negative sentiment and numerous crypto companies are defaulting. Thus, it's just a bear market known from other markets but with a fancier name.
Q3 2022 hedge fund letters, conferences and more
How To Think More Like Warren Buffett And Charlie Munger
Warren Buffett once proposed what has since become known as the 5/25 rule. This rule is an exercise used to help people focus on their most valued aims in life and ignore those ambitions or goals they do not need to prioritize. Put simply, the strategy involves writing down a list of your top 25 Read More
Indeed, as you can see in the chart below, the price of Bitcoin, the most famous cryptocurrency, plunged about 75% from its historical peak of $67,510 in early November 2021 to about $17,000 right now. I believe you understand now why crypto winter is a much more accurate term than just a bear market!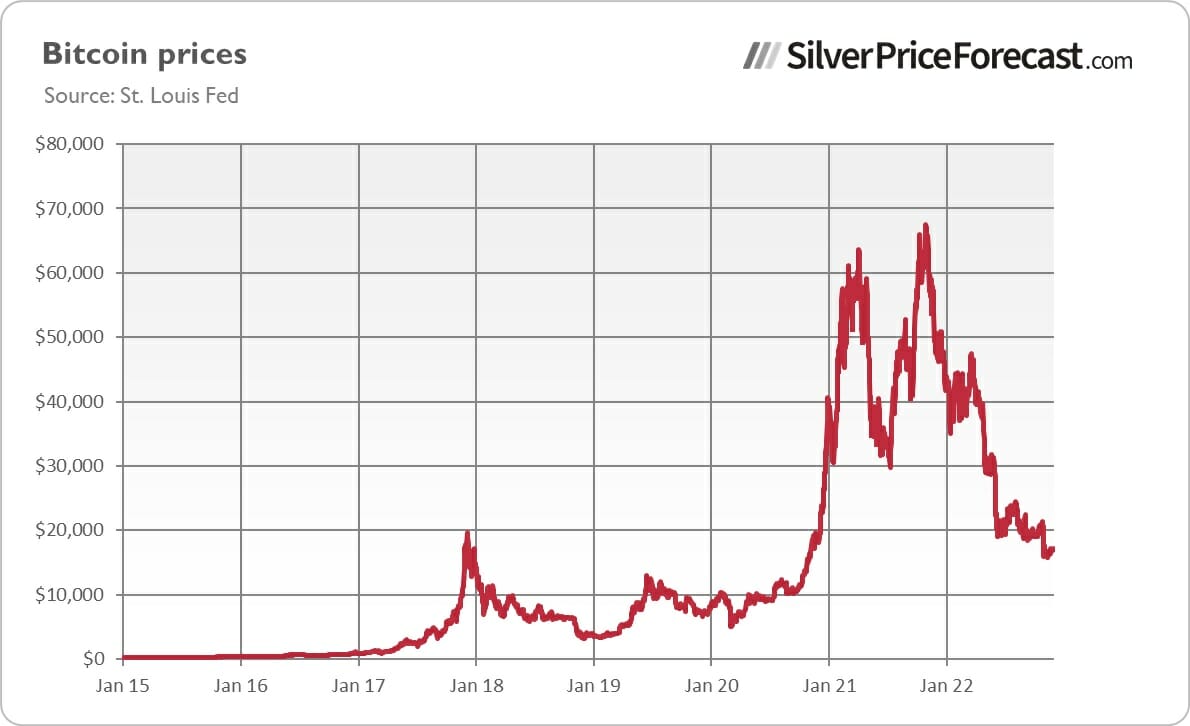 However, there is one important difference between these two notions. Although ups and downs are pretty normal in the stock market or the silver market, we can't exclude the possibility of crypto winter lasting forever.
In other words, although well-established markets, like the gold market, have proved to have a pattern of ebbs and flows, and therefore we can reasonably expect that there will be a boom after a bust, cryptocurrencies are a new asset class, and it's possible that their price will eventually fall to zero.
FTX Collapses
I bet that you have already heard about the bankruptcy of FTX. It was one of the largest cryptocurrency exchanges whose valuation plunged from $32 billion to bankruptcy within several days in November. To make matters worse, just hours after filing for bankruptcy, FTX experienced an alleged hack in which hundreds of millions of tokens were stolen.
But what exactly happened? Well, there was a report published by CoinDesk which pointed out some potential leverage and solvency concerns. These worries, which were intensified by the sell-off of FTX's tokens by another big player Binance, led to a classic bank run, i.e., customers demanded withdrawals. But FTX couldn't satisfy these demands and faced a liquidity crisis.
FTX's collapse was the largest collapse in the history of cryptocurrencies that shook the whole crypto market and triggered other bankruptcies. It shows us how the so-called "easy money" fueled many crypto bubbles, which are popping right now amid the Fed's tightening cycle.
The bankruptcy of the crypto exchange also reminds us of the danger of fractional reserve banking and similar schemes. The company collapsed because of the gap between what it owed and what it could pay out.
It worked like this: FTX used the money deposited by its clients to make speculative investments through a sister company, a crypto-trading firm Alameda Research. As clients started to withdraw their money, they discovered – what a surprise! – that FTX didn't have enough of it to meet their demands.
Implications for Silver
What does crypto winter imply for silver prices? Well, the problems of the cryptocurrency market could prompt some investors to shift their funds from cryptos into more stable precious metals.
Silver could especially benefit, as it's believed to be a riskier bet than gold (it's even sometimes called "gold on steroids"). Hence, crypto investors, who typically have high risk tolerance, could flow more naturally into the silver market.
Another important implication is that it should be obvious now that cryptocurrencies are not substitutes for precious metals as safe havens. Although silver didn't have the best year, as the chart below shows, it lost only 7% in the same period in which Bitcoin lost about three-quarters of its value.
It shows that cryptos are still the Wild West, especially compared to the precious metals which enjoy centuries-long history and much smaller volatility. And if you buy physical bullion, you are not even susceptible to bank or quasi-bank runs!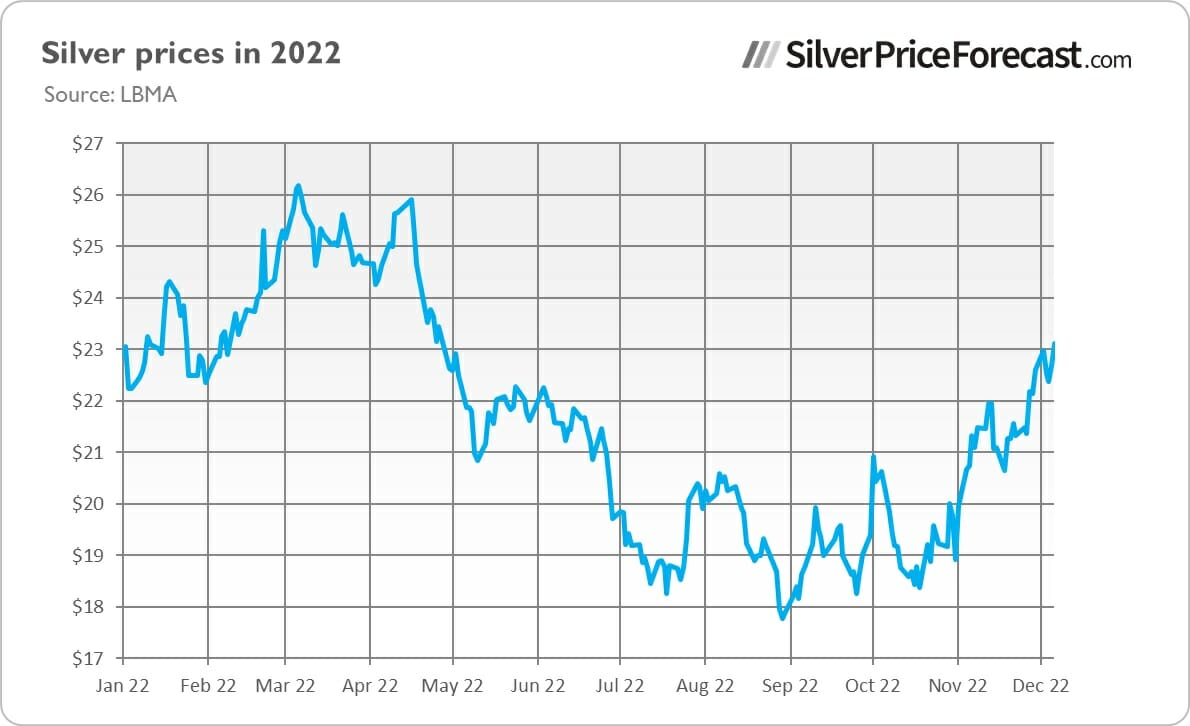 To be clear, the precious metals market is not an easy market. But a recent Bank of International Settlements study shows that between 2015 and 2022, 73% to 81% of investors lost money on their investments in cryptocurrencies.
I haven't seen a comparable analysis for silver, but if you are retail investors, it's probably much smarter (and safer) to invest in the silver market, especially if you have a long-term perspective.
If you enjoyed today's free gold report, we invite you to check out our premium services. We provide much more detailed fundamental analyses of the gold market in our monthly Gold Market Overview reports and we provide daily Gold & Silver Trading Alerts with clear buy and sell signals.
In order to enjoy our gold analyses in their full scope, we invite you to subscribe today. If you're not ready to subscribe yet though and are not on our gold mailing list yet, we urge you to sign up. It's free and if you don't like it, you can easily unsubscribe. Sign up today!
Arkadiusz Sieron, PhD
Sunshine Profits: Effective Investment through Diligence & Care


Read More: Silver Prices Can Thrive In Crypto Winter – ValueWalk

Disclaimer:The information provided on this website does not constitute investment advice, financial advice, trading advice, or any other sort of advice and you should not treat any of the website's content as such. NewsOfBitcoin.com does not recommend that any cryptocurrency should be bought, sold, or held by you. Do conduct your own due diligence and consult your financial advisor before making any investment decisions.