Short liquidations worth $1.2 billion hit crypto traders like the plague
As Bitcoin, Ethereum and several altcoins yielded massive gains overnight, a series of short liquidations were triggered. 
Based on data from IntoTheBlock's dashboard, total shorts liquidations in crypto have surpassed $1.2 billion. 
FTX exchange accounts for nearly 80% of the $1.2 billion crypto liquidations since October 25. 
With the recovery of the broader crypto market, there was a round of massive liquidations on exchanges like FTX. Shorts worth $1.2 billion were liquidated since October 25, as altcoins Ethereum and XRP yielded profits for holders. 
Also read: XRP Price: Addresses holding XRP cross 4.34 million, hit new milestone
Short liquidations signals a turning tide in crypto
The recent spike in crypto short liquidations is similar to levels seen in July 2021. A liquidation on a long/short position occurs when an exchange forcefully closes a trader's leveraged position due to partial or total loss of initial margin. When this happens, there is a margin call followed by a partial or total loss of initial margin through liquidation. 
Based on data from TheBlock's dashboard, more than $1.2 billion in crypto shorts have been liquidated. Analysts believe that the liquidations may have contributed to a short squeeze in cryptocurrencies because of the massive rally in altcoins like Ethereum, Dogecoin and XRP.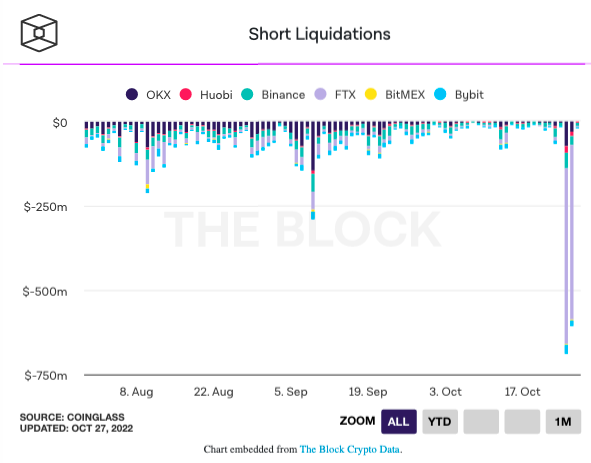 Crypto short liquidations from IntoTheBlock data
Overall crypto market capitalization climbed 4%, hitting the $1 trillion mark, a level that the industry attained in August 2022. Since October 25, about 205,000 trades have been liquidated across exchanges with the spike in crypto prices. Samuel Bankman-Fried's FTX exchange accounts for 72% of the short liquidations according to TheBlock's data dashboard.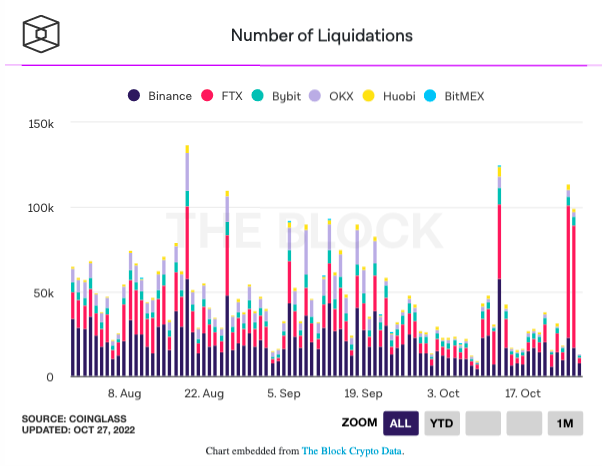 Number of crypto liquidations across exchanges from IntoTheBlock data
Traders going long on cryptocurrencies like Bitcoin suffered upwards of $99 million in liquidations across digital asset exchanges. While FTX recorded upwards of $519 million in short liquidations, leading crypto exchange platform OKX recorded $71 million and Binance recorded $46 million. 
Liquidations attributed to Bitcoin's long and short positions were upwards of $368 million. What's more, there was a spike in open interest, implying traders want to open more positions in anticipation of a price rally in an asset. 


Read More: Short liquidations worth $1.2 billion hit crypto traders like the plague

Disclaimer:The information provided on this website does not constitute investment advice, financial advice, trading advice, or any other sort of advice and you should not treat any of the website's content as such. NewsOfBitcoin.com does not recommend that any cryptocurrency should be bought, sold, or held by you. Do conduct your own due diligence and consult your financial advisor before making any investment decisions.