Luna Classic price: Binance burned 6 billion LUNC, triggering massive rally in the altcoin
Luna Classic LUNC price yielded 12% gains overnight for holders after Binance's massive burn of 6.39 billion tokens. 
Binance has destroyed nearly 20 billion LUNC through a burning mechanism, fueling a bullish sentiment among Luna Classic holders.
Luna Classic price chart reveals that LUNC broke past the falling wedge, this is considered a bullish sign for the altcoin. 
Luna Classic (LUNC) price witnessed a massive spike on Friday, after yielding 12% gains overnight. The move came after the world's largest crypto exchange, Binance announced it would be burning 6.39 billion LUNC tokens. 
Also read: FTX exchange collapse, loss of $3.1 billion could have been avoided on one condition
LUNC price rallies after massive Binance token burn
Binance, one of the world's largest exchanges by trade volume, burned 6.39 billion LUNC tokens as part of its monthly Luna Classic burn mechanism. Binance sent the LUNC tokens to the burn address on December 1 at 2:35 PM GMT. This represents the sixth batch of Luna Classic trade fees collected by the exchange for the period from October 30 to November 30. 
Luna Classic weekly burns were facilitated by Binance for the first five weeks. Post that the exchange announced monthly LUNC burns. The volume of Luna Classic burned continued to decline due to low trade volume and proposal 5234 that reduced tax burn from 1.2% to 0.2%.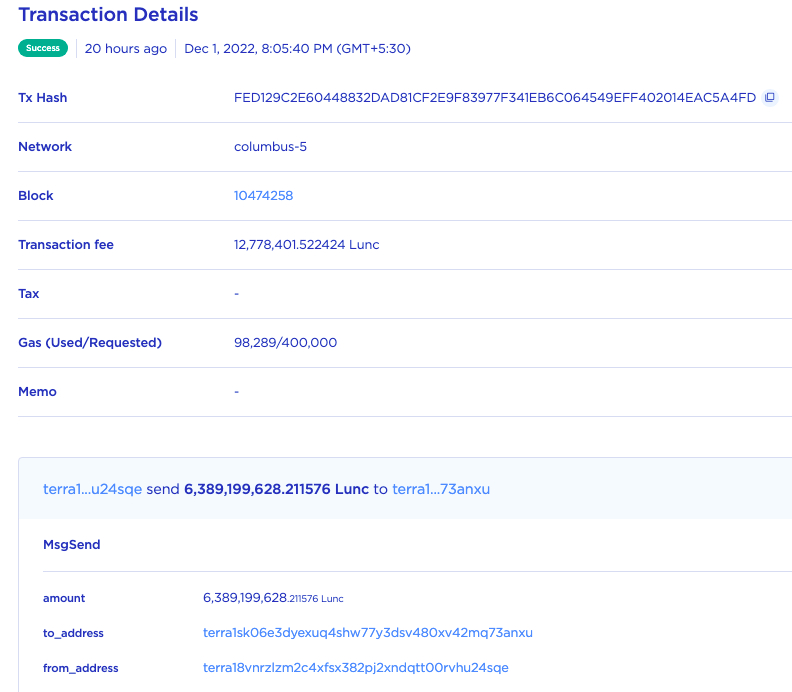 Luna Classic burn by Binance 
Binance burned 13.7 billion LUNC tokens in October 2022 and the total burn has crossed 20 billion Luna Classic tokens. Post Binance's burn, LUNC rallied 12% overnight. 
Luna Classic price chart shows bullish signs
On evaluating the Luna Classic price chart, there are bullish signs that point towards an extended rally in LUNC. Luna Classic price has moved slightly above the falling wedge pattern in the chart below. This is considered a bullish sign. Interestingly, Relative Strength Index (RSI), a momentum indicator, crossed the neutral level of 50. Overall technicals therefore point towards extended gains in LUNC price.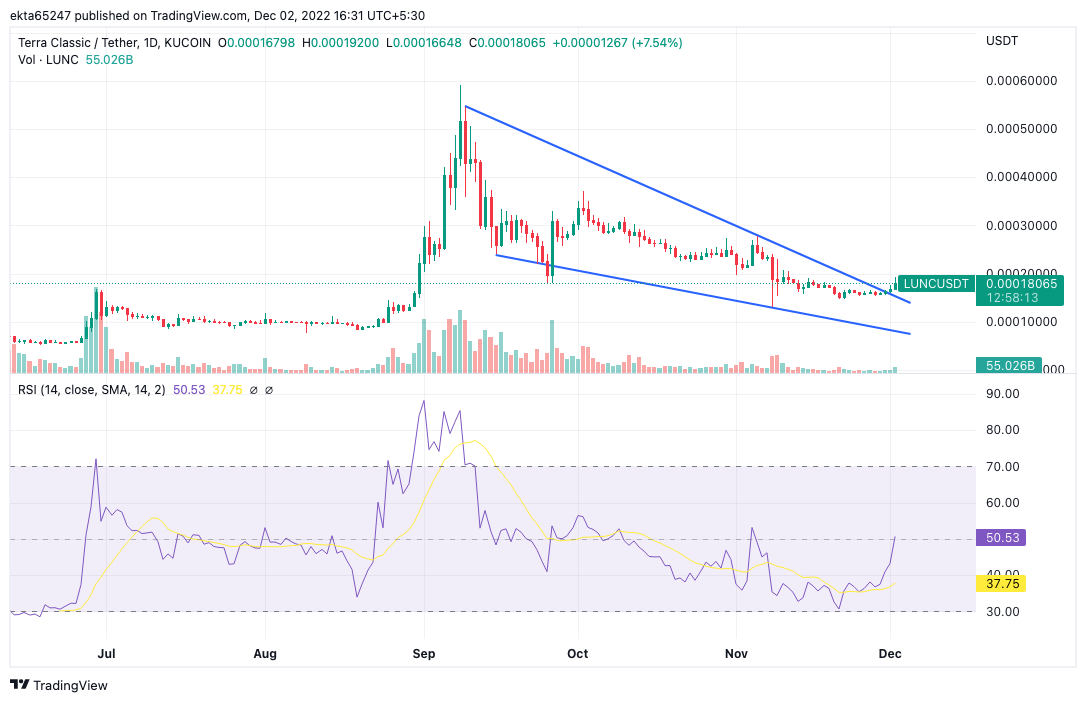 LUNC/USDT price chart 
At press time, LUNC is changing hands at $0.000182. There is a likelihood that Luna Classic performs well in December 2022 based on the aforementioned technicals, a key level to watch is the monthly high of $0.000278. 


Read More: Luna Classic price: Binance burned 6 billion LUNC, triggering massive rally in the altcoin

Disclaimer:The information provided on this website does not constitute investment advice, financial advice, trading advice, or any other sort of advice and you should not treat any of the website's content as such. NewsOfBitcoin.com does not recommend that any cryptocurrency should be bought, sold, or held by you. Do conduct your own due diligence and consult your financial advisor before making any investment decisions.