Litecoin whales prepare for third halving, how high will the LTC price go?
Litecoin network is gearing up for its third halving where the block reward will be reduced to 12.5 LTC per block. 
Litecoin recently hit two key milestones, 52 million new addresses joined the altcoin's network and it completed 39 million transactions in 2022. 
LTC price could recoup its losses as count of whale addresses jumps higher, it remains to be seen whether it is a sell the news event. 
Litecoin network is preparing for its third halving in 2023. Developers on the altcoin network are gearing up for the block reward to be slashed in half to 12.5 LTC per block. The Bitcoin alternative hit two key milestones in 2022, in new wallet addresses and total transactions on the network. 
Also read: Robert Kiyosaki scoops up Bitcoin before crypto regulations crush innovation
Litecoin whale address count climbs ahead of third halving
Litecoin halving is a key event where block reward is slashed in half and the event occurs once every four years. LTC supply is currently capped at 84,000,000 Litecoins and the fixed supply makes the altcoin scarce and deflationary. 
The objective of halving is to preserve the purchasing power of the asset. There have been two halvings since the altcoin's launch in 2011. The first halving was performed in August 2015, the block reward has been reduced to 25 LTC. 
The previous two consecutive halvings have resulted in a rally in the altcoin's price. The post-halving price boom is expected in the second half of 2023 as the event is scheduled for August 2023. A 50% reduction in the number of Litecoin minted has resulted in two events: a surge in the asset's price and a crypto bull market that ensues in the following years, leading into BTC halving. 
While past performance is not an indicator of future performance, the halving could help establish a clear path towards the future.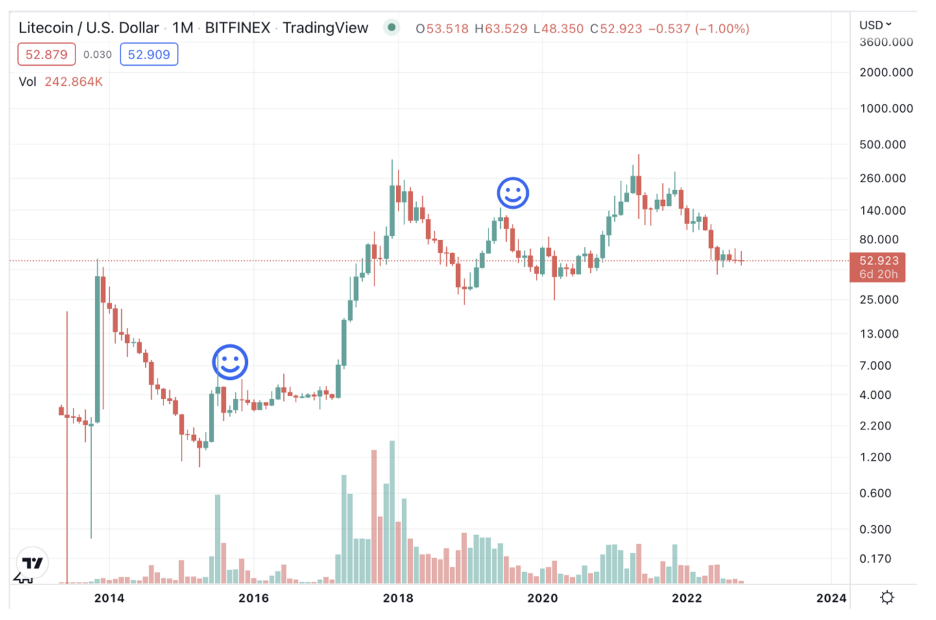 Litecoin halvings one and two and price impact 
It can be seen in the chart above that Litecoin price increased during the two halvings indicated by a smiley icon. Interestingly, LTC made impressive gains against BTC in the days and weeks following the halving. 
Based on data from Santiment, Litecoin price ratio v. Bitcoin remained high as the number of large wallet addresses climbed up since May 2022. LTC/BTC price ratio is up 130% since June 12, 2022. The network hit a key milestone in terms of addresses holding more than 1,000 LTC in two years.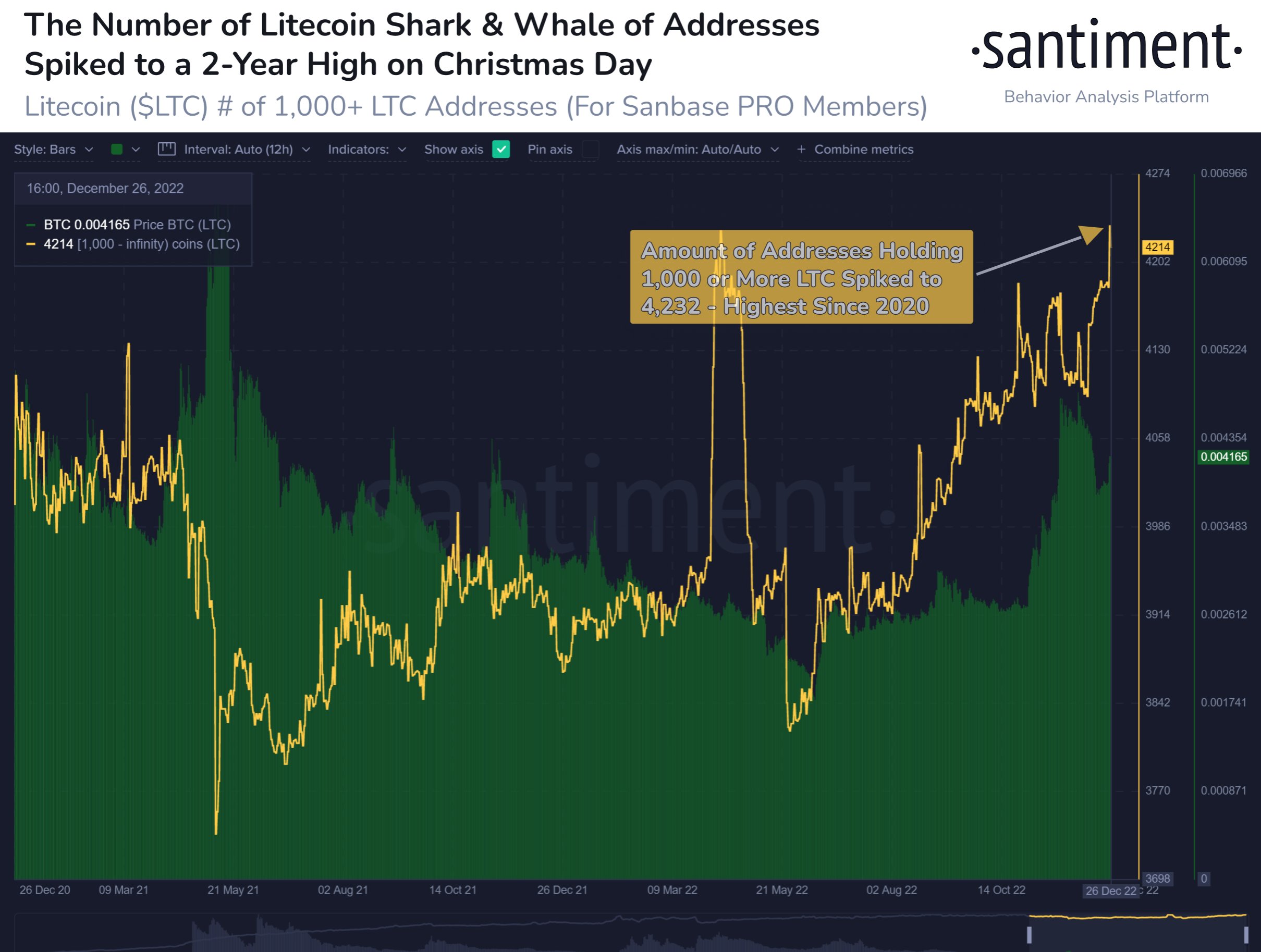 Litecoin shark and whale addresses hit two year high
Analysts predict next Litecoin top in 2023
Master Kenobi, a crypto analyst and trader argues that Litecoin could swim against the S&P 500 and have a pre-halving run during a potential crash in the index. The technical expert shared a chart.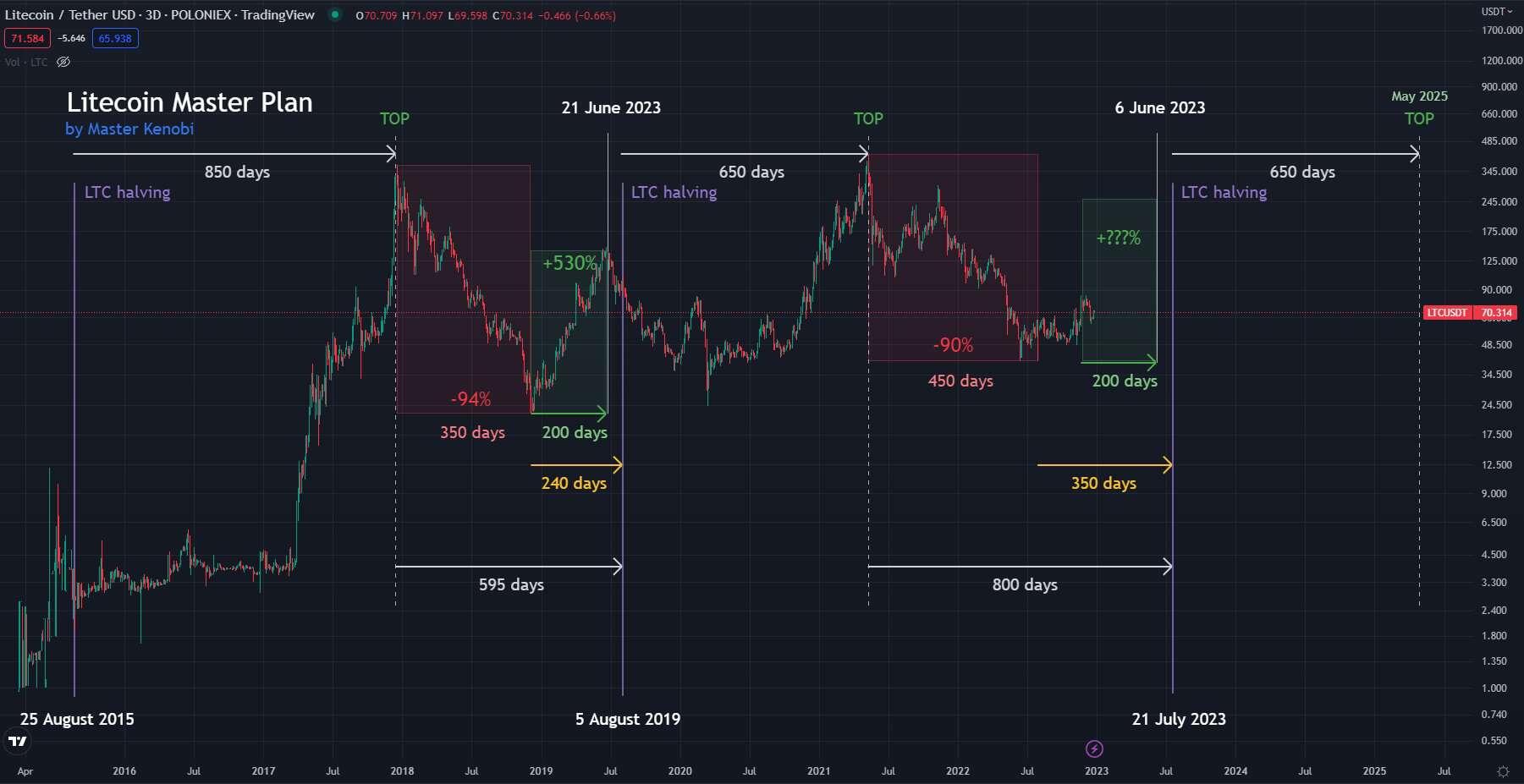 Litecoin prediction by Master Kenobi
Kenobi believes that LTC halving season is here and the Bitcoin alternative could climb up to the $485 level. The altcoin has witnessed nearly 90% drawdown in two previous cycles, therefore analysts believe the payment token is ready for a bullish breakout, sell the news event ahead of third halving.


Read More: Litecoin whales prepare for third halving, how high will the LTC price go?

Disclaimer:The information provided on this website does not constitute investment advice, financial advice, trading advice, or any other sort of advice and you should not treat any of the website's content as such. NewsOfBitcoin.com does not recommend that any cryptocurrency should be bought, sold, or held by you. Do conduct your own due diligence and consult your financial advisor before making any investment decisions.