Leandro Lopes Fashion House Goes Crypto
Blockchain technology and the digital economy are penetrating many areas of life. Leandro Lopes (LL) is a multidimensional and authentic upcoming fashion brand that constitutes integrity through high-quality and exclusive individual designs. Leandro Lopes is more than just fashion or clothing. Leandro Lopes expresses a special spirit and lifestyle driven towards connecting people. Because of its celebrities and influencers and their communities of over 20 million followers, Leandro Lopes has huge potential. Many of the market participants consider Leandro Lopes as one of the fastest-growing fashion brands in 2022.
To accelerate the growth and internationalization of the LL-Fashion Business, the Leandro Lopes group has decided to leverage blockchain technology to introduce the $Lopes token and a cryptocurrency-based infrastructure via an initial token offering ("LL-ITO" or "ITO").
The $Lopes token forms a key agent to the full LL-Ecosystem. It is innovative and shall merge the physical presence of the Leandro Lopes brand with the virtual. NFTs, the metaverse, and other digital assets are the main elements that customers may use to enter the virtual fashion space, a world where they can wear and use virtual shoes, clothing, and other items in avatar ecosystems currently in massive growth. The LL-Ecosystem offers several innovative opportunities for customers to earn with the $Lopes token and the NFTs offered through the Lopes LL-Ecosystem.
WEAR TO EARN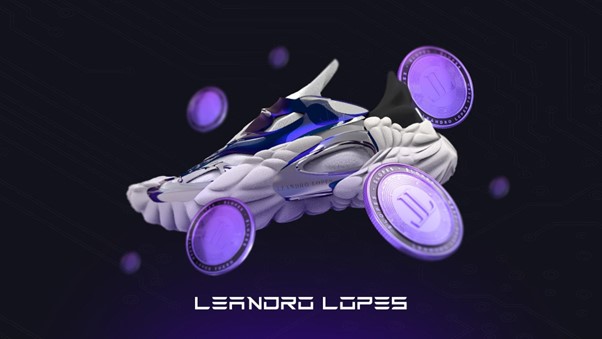 Everybody who owns a pair of Leandro Lopes mining shoes can take part in the "wear to earn" program and can earn $LOPES. The user receives a fixed amount of $LOPES, per 1,000 steps performed, which allows users to create a passive income by wearing their shoes.
The Leandro Lopes App brings various amount of challenges, bonus systems and other level systems that allow high number of bonus $LOPES. This enables users to earn up to 2,000 USD a day.
Terms & Conditions of the $Lopes Offering
The standard selling price for one $Lopes is USD 0.25. The minimum purchase during the Private Presale phase is EUR 100,000 after applying the discount.
During the Private PreSale phase (July 4 to September 30, 2022), a discount of 30% on the selling price will be applied to the sale price, resulting in an effective price of USD 0.175 per Lopes.
The Private Sale phase is followed by the Public Presale phase (October 1st to December 31, 2022). The minimum purchase is USD 100. Discount rates will be granted depending on the purchase price paid. For example, if someone purchases $Lopes for USD 1,000, the discount rate is 10%, and in the case of a purchase for USD 15,000 and above, the discount rate is 25%.
The purpose of the Lopes issuance is to raise funds in the amount of up to CHF 25 million, which shall mainly be used for the expansion of the Leandro Lopes business to the USA and Asia, the opening of Leandro Lopes Flagship Stores, and for marketing purposes.
Conclusion
Leandro Lopes is a fashion brand and an excellent example of how the digital economy is entering our world, finding new applications. LL-Ecosystem strives to create a fundamentally new way of interacting with customers.
If you want to be a part of it, welcome to Private or Public Presale. Private Pre Sale will last until September 30, and Public Presale will be available until December 31, 2022.


Read More: Leandro Lopes Fashion House Goes Crypto

Disclaimer:The information provided on this website does not constitute investment advice, financial advice, trading advice, or any other sort of advice and you should not treat any of the website's content as such. NewsOfBitcoin.com does not recommend that any cryptocurrency should be bought, sold, or held by you. Do conduct your own due diligence and consult your financial advisor before making any investment decisions.