Institutional Investors Return to Bitcoin as Market Sentiment Improves
Market sentiment is shifting – that much is clear.  After closing out 2022, the digital asset sector has gone on to boast quite an impressive January with Bitcoin rising from ~$16,500 USD to ~$23,000 USD during this time.
The following are a few recent developments which provide a bit of insight in to why this is happening.
Who is Responsible? Institutional Investors
Per recent data released by Matrixort, it is believe that roughly 85% of the buying in this January rally can be attributed to North American institutional investors.  Matrixport states that,
#Bitcoin is up +40% year-to-date with +35% of those returns occurring during US #tradinghours. That's an 85% contribution of the #rally associated with US based #investors. Hence, we interpret this as a clear signal that US institutions are buyers of #Bitcoin right now.
Often more prudent, and less driven by speculation, this is no doubt a positive sign that is expected to spur their retail counterparts in to action sooner, rather than later.
Why Invest Now?
So we largely know who has spurred on this recent rally, but why now?  The answer to this is multi-pronged, with various recent developments at play – all helping to shift market sentiment towards a more positive view.  These developments include factors from each a macroeconomic, industry specific, and statistical perspective.
Macroeconomic
Continuing with Matrixport, the company echoes the most obvious reason being touted as the catalyst for the market turnaround – cooling inflation.  This month saw the Federal Reserve indicate a willingness to begin tapering off its rate hikes.  This was also followed news that the latest rate hike by the Bank of Canada will be its last for now, as it reassesses the economy.  Provided inflation continues on its desired trajectory, many are expecting rates to be cut sometime in Q4 of this year.
Meanwhile, big banks in the United States and Canada have indicated that while a recession isn't completely off the table, it will be a 'mild' one if confirmed.  This perspective is being formed partly on recent GDP statistics from the United States which indicated its economy grew at a quicker pace than expected in Q4 of 2022.
Interestingly, news of the United States hitting/amending its debt ceiling for the 78th time since 1960 has not had much impact on markets.  With hitting the ceiling having become routine at this point, along with accompanying 'extraordinary measures', it would appear as though many have become desensitized to the practice of burdening future generations with insurmountable debt.
Industry Specific Developments
From an industry specific standpoint, this week saw major news regarding the adoption of the Lightning Network – the layer 2 scaling solution hailed as the path towards Bitcoin being usable as an everyday currency.  Not only did digital asset exchange, Mt Pelerin, announce its support for Lightning Network, but Strike announced that it has worked with Fiserv to help integrate the protocol into Clover.  This integration will allow for millions of Clover clients to trial and experience the Lightning Network first hand at Point-of-Sale (POS) terminals.
Integration of the Lightning Network is great from a mainstream adoption standpoint.  The good news doesn't stop there though.  This week also saw Bill SB 1341 put forth by Senator Wendy Rogers.  If passed, this Bill would see Bitcoin become legal tender within the State of Arizona.  While unlikely that this would actually occur at this point in time, it points to a continued increase in acceptance of digital assets among not only the public, but governments alike.  If looking for another example of this, just turn to Texas and its concerted effort to become a dominant force in the BTC mining sector.
By The Numbers
So we've seen positive momentum in the economy, and industry developments.  Look further into Bitcoin in particular though, and you will find various figures that point to a pending bull market.
Not only is the Bitcoin network stronger than ever, continually boasting new all-time-highs with regards to hashrate, popular sentiment gauges like the 'Fear & Greed Index' are rising.
Meanwhile, those that follow the overall market cycle will be quick to note that based on the past performance of BTC, we can expect to start seeing anticipation of the next halving event, which is expected to occur around May 2024, begin to be priced in moving forward.
Breaking Free
Overall, each of the above examples, and more, have contributed to BTC being named the best performing asset of 2023 to date by Goldman Sachs.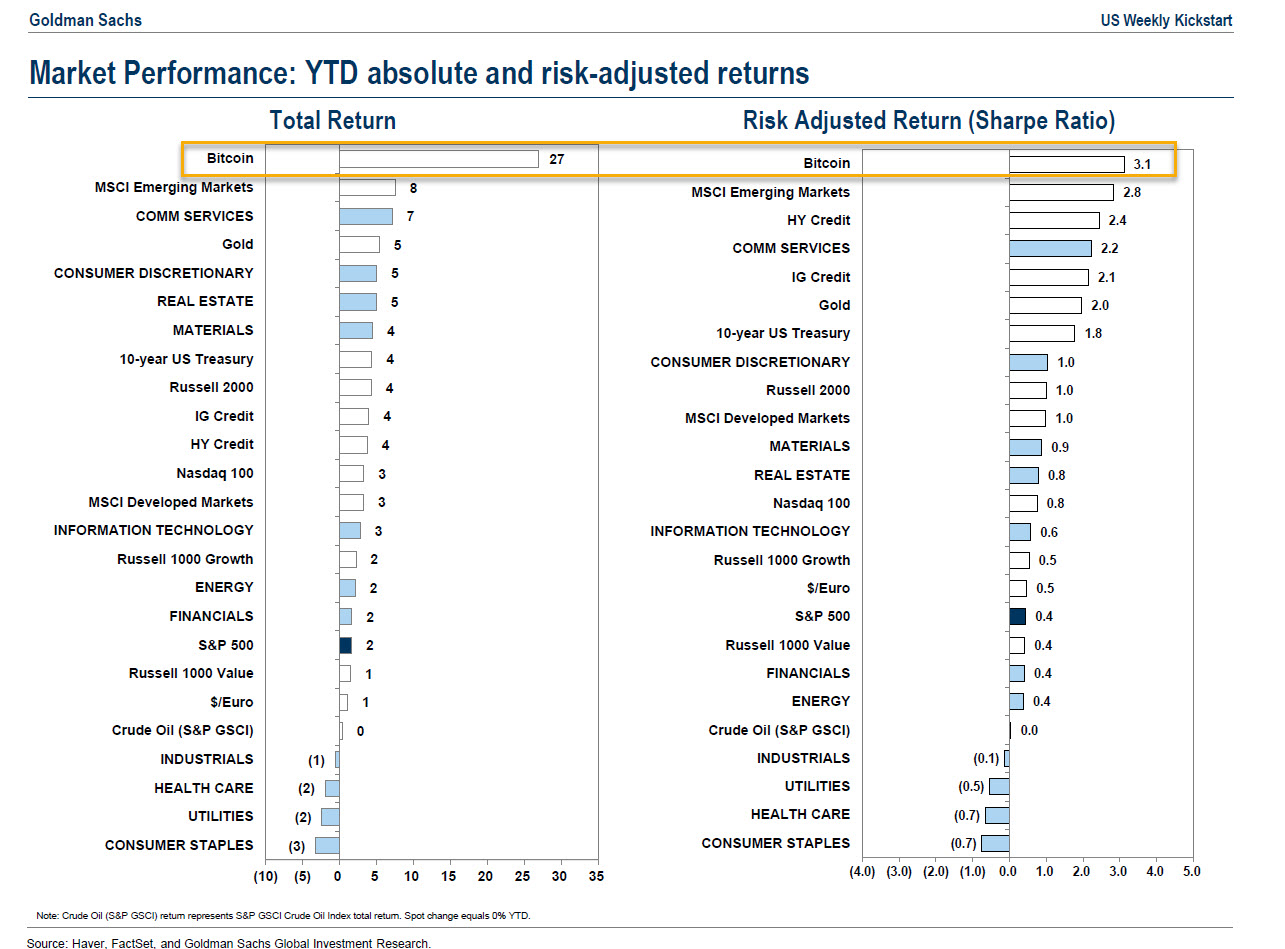 Compared to its performance at this time last year, BTC is clearly headed in the opposite direction.  As a result, the shift in sentiment surrounding the asset has allowed for it to outperform assets like Gold and Real Estate – despite posting postive figures of their own.
It appears as though the tide has finally shifted for Bitcoin and the broader digital assets market.  While there will no doubt be market pullbacks on occasion, the worst news has already been priced in, hopefully resulting in a market bottom.  Now positive developments are being priced in, with an opportunity to rebuild the market stronger and better than before.




Read More: Institutional Investors Return to Bitcoin as Market Sentiment Improves

Disclaimer:The information provided on this website does not constitute investment advice, financial advice, trading advice, or any other sort of advice and you should not treat any of the website's content as such. NewsOfBitcoin.com does not recommend that any cryptocurrency should be bought, sold, or held by you. Do conduct your own due diligence and consult your financial advisor before making any investment decisions.