Check why Crypto Prices Fluctuate – Coins to Consider in the Dip
The Fed (Federal Reserve) maintains its financial tightening policy in the face of consistently rising inflation within the US. Another 75 basis point increase in interest rates was announced this month. The Fed's actions, as well as the global macroeconomic environment, promote the strengthening of the US currency and the DXY index, which reflects its strength.
The DXY index gauges the value of the US dollar in relation to a composite of six major currencies. The Canadian dollar, Japanese yen, Euro, British Pound, Swiss Franc and Swedish Krona are among them. A figure of 120, for example, indicates that the US dollar has gained 20% versus a group of currencies during a specific time period. In other words, a rising DXY suggests the USD is getting stronger or worth compared to other currencies.
About Cryptocurrencies
Bitcoin's worth has dipped by approximately 70% since its all-time peak last year in November. The token's current value remains low yet fluctuates a bit. The most desired crypto coin has remained at the $19,000 price level throughout the previous week. As of this week, it had nearly dipped below that level, which is nothing out of the norm these days. 
Over the previous month, Bitcoin's price has bounced above and below $19,000, unable to stay over $20,000 for more than a small amount of time. Poor economic conditions keep the price low. For example, Bitcoin's price fell below $19,000 last week as a result of inflation statistics showing that prices continue to climb despite the Federal Reserve's attempts to bring them down.
Despite low pricing, Bitcoin has been rather stable over the previous month. This is notable since its stability occurred at a period when other assets, such as gold, fiat assets, and equities, were falling. Despite the fact that several of these markets are presently rebounding, the price of Bitcoin has stayed relatively stable. According to some experts, steadiness originates from the tenacity of protracted investors who are undaunted by red signs in the US economy.
Many investors are also wondering if the present mismatch between cryptocurrency and stocks implies that cryptocurrency will no longer track the stock market. Experts do not believe we are there yet, and some are dubious that it will happen at all. At the very least, cryptocurrency requires more time to break away from asset values.
Other altcoins also witnessed a dip, which was considerably more than Bitcoin. Naturally, this was an expected reaction. However, there have been a couple of projects that have been gaining massive traction in the past few days. These include two top-grossing presales.
IMPT.io- On a Successful Presale Run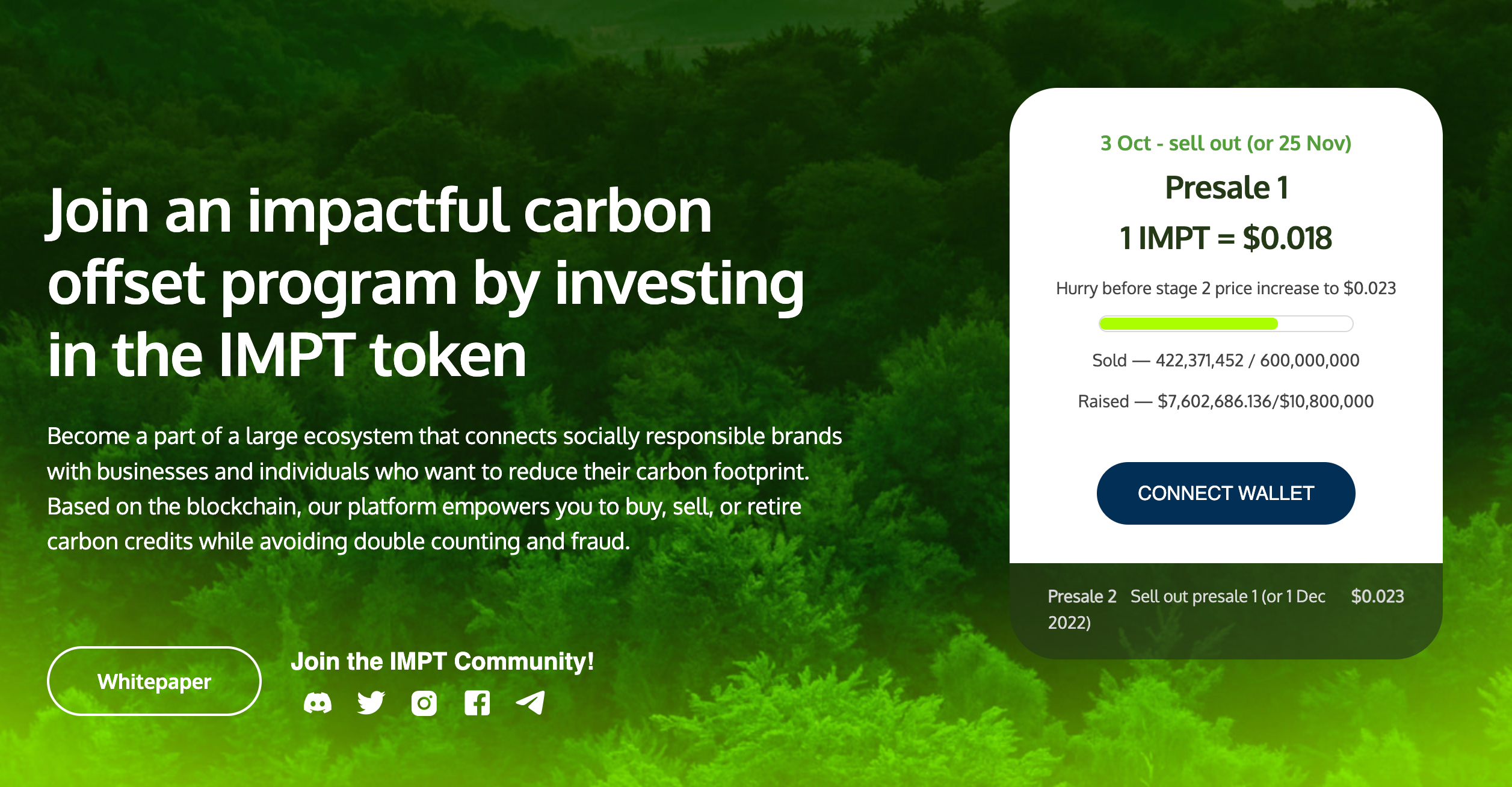 IMPT.io is the latest sustainable cryptocurrency that is presently on presale. It's a decentralised marketplace that combines business and environmental activities. In other terms, IMPT enables clients to invest in ecologically friendly initiatives worldwide. Investors who buy carbon credits can engage in the initiative.
After purchasing carbon credits, investors may either hold them for investment activities or burn them to reduce their carbon footprint. The IMPT cryptocurrency presale has already hit $7.6 million. The token is currently priced at 1 IMPT = $0.018. During stage 2, the pre-price will increase to $0.023. Due to this, the ideal time to take advantage of the reduced price is right now.
D2T Presale – Explosive Start to its Presale
Because of the hundreds of token developments, the crypto business is swamped with competing tokens. Several critical trading characteristics might be neglected in the midst of the fast and numerous influx of daily information.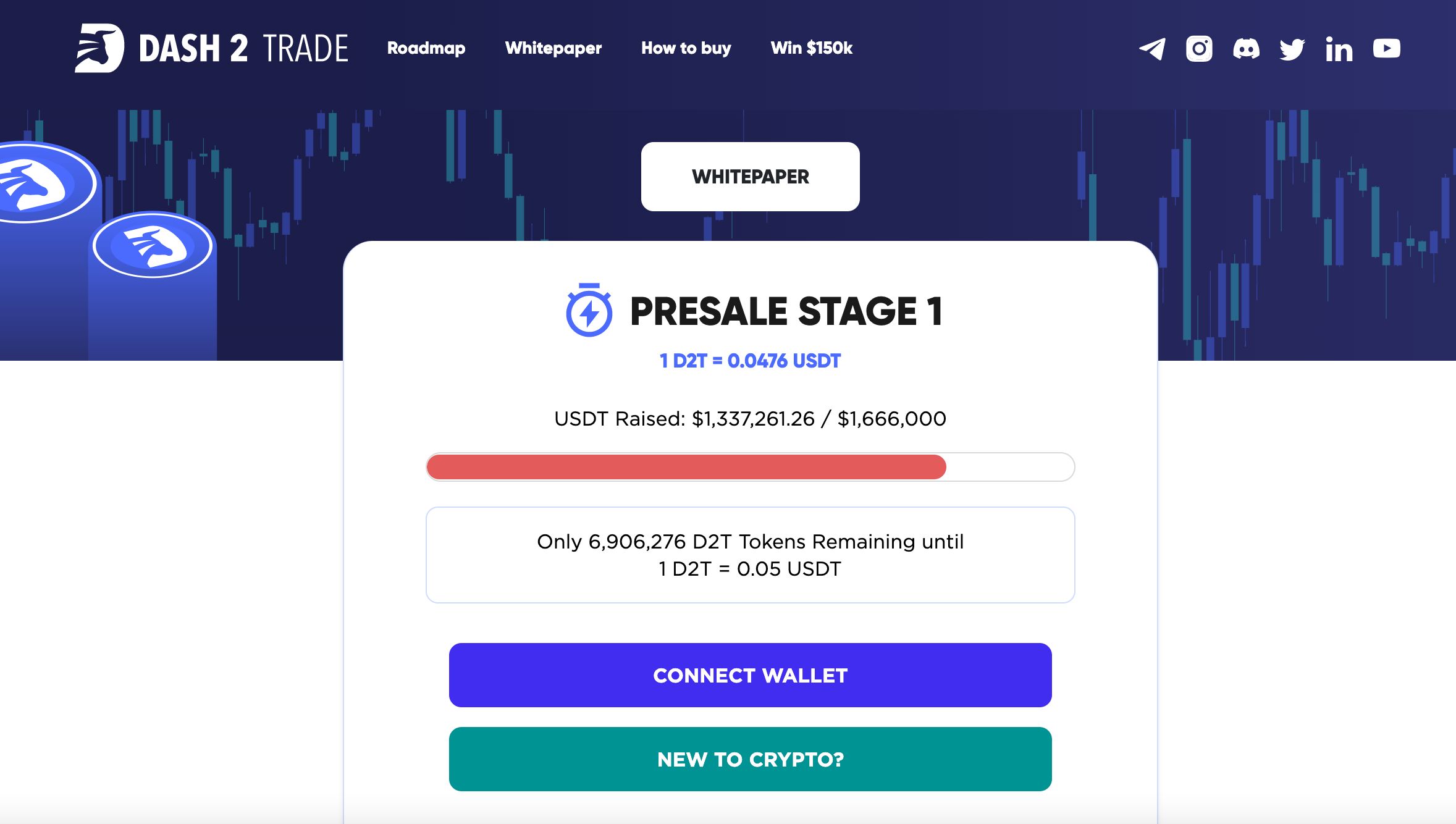 Dash 2 Trade is a long-awaited cryptocurrency platform looking to make a difference. This cryptocurrency initiative attempts to diverge from traditional crypto stocks. Dash 2 Trade is developing the D2T tax-free token to enable their trading analytics platform. The platform provides Bitcoin traders with in-depth market analytics to assist them in developing market-beating tactics. Dash 2 Trade platform users get used to social trading tools, stats, and signals.
Furthermore, D2T will provide a range of social trading features to D2T token holders. The trading contests will include a weekly prediction challenge. D2T users will get insights from the forecasts, and the contest winners will earn prizes from D2T. 
Trader AMAs allow members of the community to communicate with traders from a range of backgrounds and expertise. Users will have the ability to develop and share shared signals and methods with the rest of the community. Their performance will be tracked so that users may identify the most dependable performers in the group to follow.
Having accessibility to the Dash 2 Trade interface is made possible by the utility token D2T. The D2T Web3 application accepts the D2T coin as payment. The Dash 2 Trade metrics dashboard is built on the Ethereum blockchain. The token's presale began on October 19th, and it has shockingly raised a substantial amount of money in such a brief period.
Read More:
Early Stage Presale Live Now
Doxxed Professional Team
Use Cases in Industry – Offset Carbon Footprint


Read More: Check why Crypto Prices Fluctuate – Coins to Consider in the Dip

Disclaimer:The information provided on this website does not constitute investment advice, financial advice, trading advice, or any other sort of advice and you should not treat any of the website's content as such. NewsOfBitcoin.com does not recommend that any cryptocurrency should be bought, sold, or held by you. Do conduct your own due diligence and consult your financial advisor before making any investment decisions.