Bitcoin Bullish: Large Whales Accumulated 37.1k BTC Recently
On-chain data shows large Bitcoin whales have finally started accumulating in the last 10 days as BTC has rallied strong.
Large Bitcoin Whales Have Added 37,100 BTC To Their Holdings In Recent Days
As per data from the on-chain analytics firm Santiment, multiple Bitcoin holder groups have displayed some strong accumulation recently. The relevant indicator here is the "BTC Supply Distribution," which tells us which wallet groups on the network are holding what percentage of the total supply right now.
The wallet groups here refer to ranges that denote the upper and lower bound for the number of coins that each wallet in a given group is currently holding. For instance, the 1-10 coins band includes all wallets that are carrying at least 1 BTC and at most 10 BTC right now.
The Supply Distribution metric for this group would then show the share of the total Bitcoin supply that the combined balances of all the wallets falling into this range currently occupy.
In the context of the current topic, there are three wallet groups of interest: 10-100 coins, 100-1,000 coins, and 1,000 to 10,000 coins.
Here are the trends in the Supply Distribution curves for each of these bands over the past year: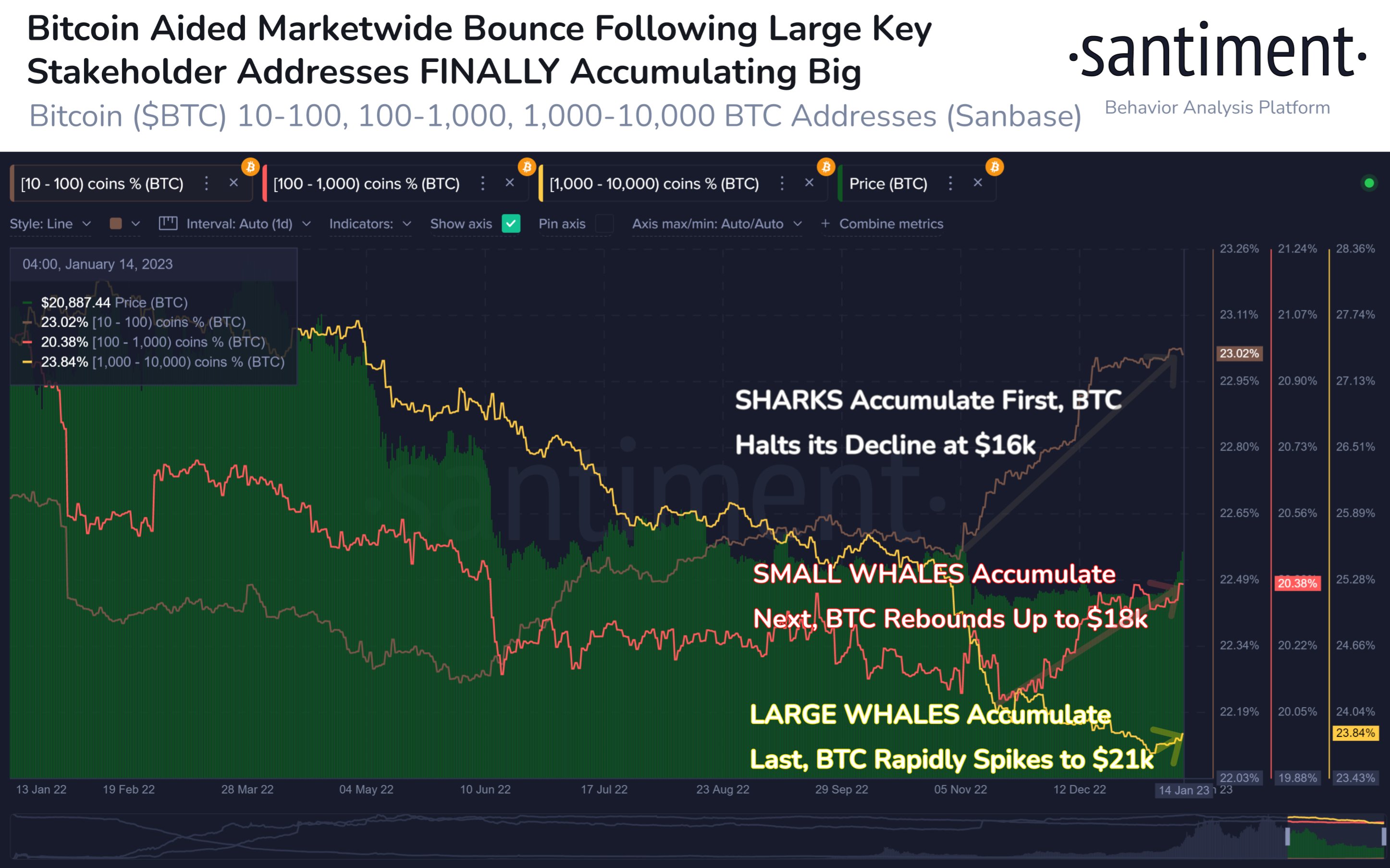 Looks like the values of these metrics have surged in recent days | Source: Santiment on Twitter
As displayed in the above graph, the total percentage of the Bitcoin supply held by the 10-100 coins band has been rising for the past 10 weeks or so. Holders with balances in this range are usually called "sharks." In this recent period of strong accumulation, these sharks have added 105,600 BTC to their holdings so far.
The 100-1,000 coins band started accumulating a bit later than this group, as their holdings saw a rise of 67,000 BTC during the last 8 weeks. Investors belonging to this cohort are generally small whales, and they make up an important part of the BTC market.
As the latest rally in the price of the crypto (where BTC has already touched as high as $21,000) has come following this strong accumulation from these two cohorts, it would appear that this buying from them helped build up a base for it.
The 1,000-10,000 coins group, which includes the large whales, is a key cohort for Bitcoin, but these humongous holders had rather been selling while the other groups were busy accumulating.
However, in the last 10 days, the large whales have finally reversed their trend and have been buying instead, as their holdings have risen by 37,100 BTC. It's because of this accumulation that Bitcoin was able to make a rapid sustained breakout above higher levels recently.
With all these different segments of the market now accumulating all at once, signs are looking bright for the current rally. However, the 1,000-10,000 coins group could still be the one to watch for, as things could take a quick bearish turn if these large whales start distributing again.
BTC Price
At the time of writing, Bitcoin is trading around $20,800, up 20% in the last week.
The value of the crypto seems to have moved sideways in the last couple of days | Source: BTCUSD on TradingView
Featured image from Todd Cravens on Unsplash.com, charts from TradingView.com, Santiment.net




Read More: Bitcoin Bullish: Large Whales Accumulated 37.1k BTC Recently

Disclaimer:The information provided on this website does not constitute investment advice, financial advice, trading advice, or any other sort of advice and you should not treat any of the website's content as such. NewsOfBitcoin.com does not recommend that any cryptocurrency should be bought, sold, or held by you. Do conduct your own due diligence and consult your financial advisor before making any investment decisions.