Best Crypto on Low Prices to Buy Today 1 November – D2T, DOGE, SHIB, IMPT, XCN, RIA, BNB
The crypto market is currently in the midst of a massive price surge that began last week. And with coins still expected to see more gains, crypto analysts believe that low-priced assets could land impressive profits.
This article reviews some of these assets and the fundamentals that could spur gains.
1. Dash 2 Trade (D2T)
D2T is the ecosystem token for Dash 2 Trade, a research and analytics platform that is looking to become the "Bloomberg terminal of crypto."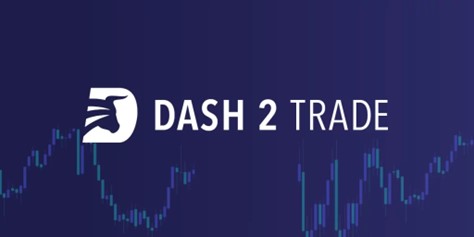 The protocol was built by Learn 2 Trade, a learning platform that allows crypto newbies to enjoy the best training materials as they make their way into the crypto industry.
Dash 2 Trade hopes to attract retail and institutional investors, making it easier for them to make informed trading decisions. The platform offers several features designed to improve accessibility to the market, including notifications for new coins that will be listed and a trading application program interface (API).
With D2T, Dash 2 Trade users can easily pay for the platform's services. Dash 2 Trade's Starter tier will cost 400 D2T, while the Premium tier will cost 1,000 D2T.
The digital asset, which is now on presale, has already raised an impressive $3.5 million. With more investors anticipated to enter the market in anticipation of gains, D2T is one asset that investors should watch out for.
2. Dogecoin (DOGE)
Dogecoin is the market's leading meme coin. Many investors have noted the digital asset's propensity for gains, and it has been a big beneficiary of the current bull run.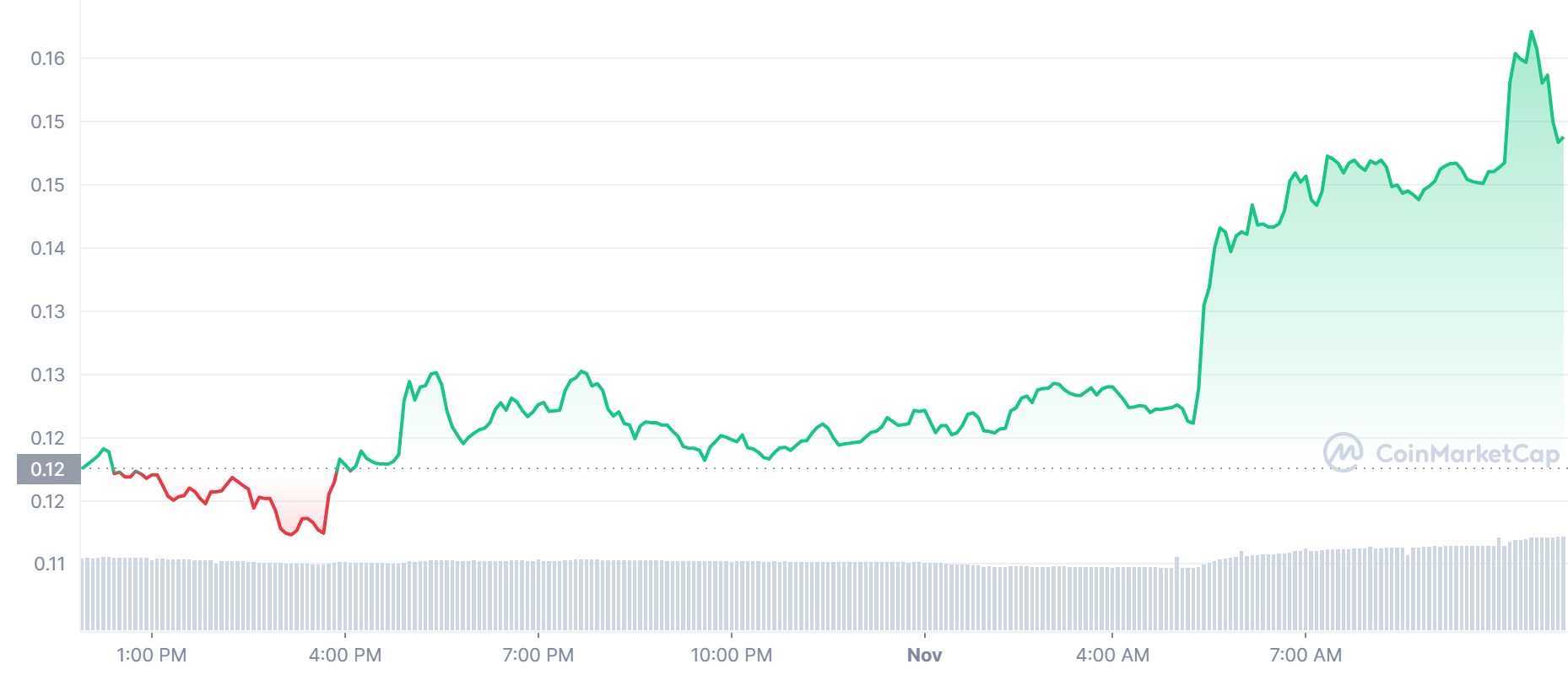 At press time, DOGE trades at $0.15, an uptrend of 21.31% in the past 24 hours. This makes it the best-performing major altcoin in the market.
After crossing the $0.15 mark, DOGE is looking technically strong and ready to set new peaks.
The biggest driver for DOGE's gains has been the Twitter takeover by Elon Musk. The DOGE enthusiast and billionaire industrialist completed his Twitter takeover last week and has been making radical changes to the social media platform. DOGE enthusiasts have also been speculating that Musk could incorporate the meme coin into Twitter in some way or the other.
Thanks to Elon Musk, Twitter will soon showcase to the entire world what #Dogecoin is capable of!

— Matt Wallace (@MattWallace888) October 28, 2022
And Musk has been feeding the speculations. He tweeted a Halloween picture featuring his pet dog wearing a Twitter-branded shirt in the early hours of Tuesday, leading many to believe that he could have something big coming for Dogecoin and Twitter.
— Elon Musk (@elonmusk) November 1, 2022
3. Shiba Inu (SHIB)
Shiba Inu, another leading meme coin, has established itself as one of the most valuable assets in the market. The digital asset's rise has mirrored that of Dogecoin, although Shiba Inu's developers have taken a more cautious approach by trying to incorporate more use cases into the token.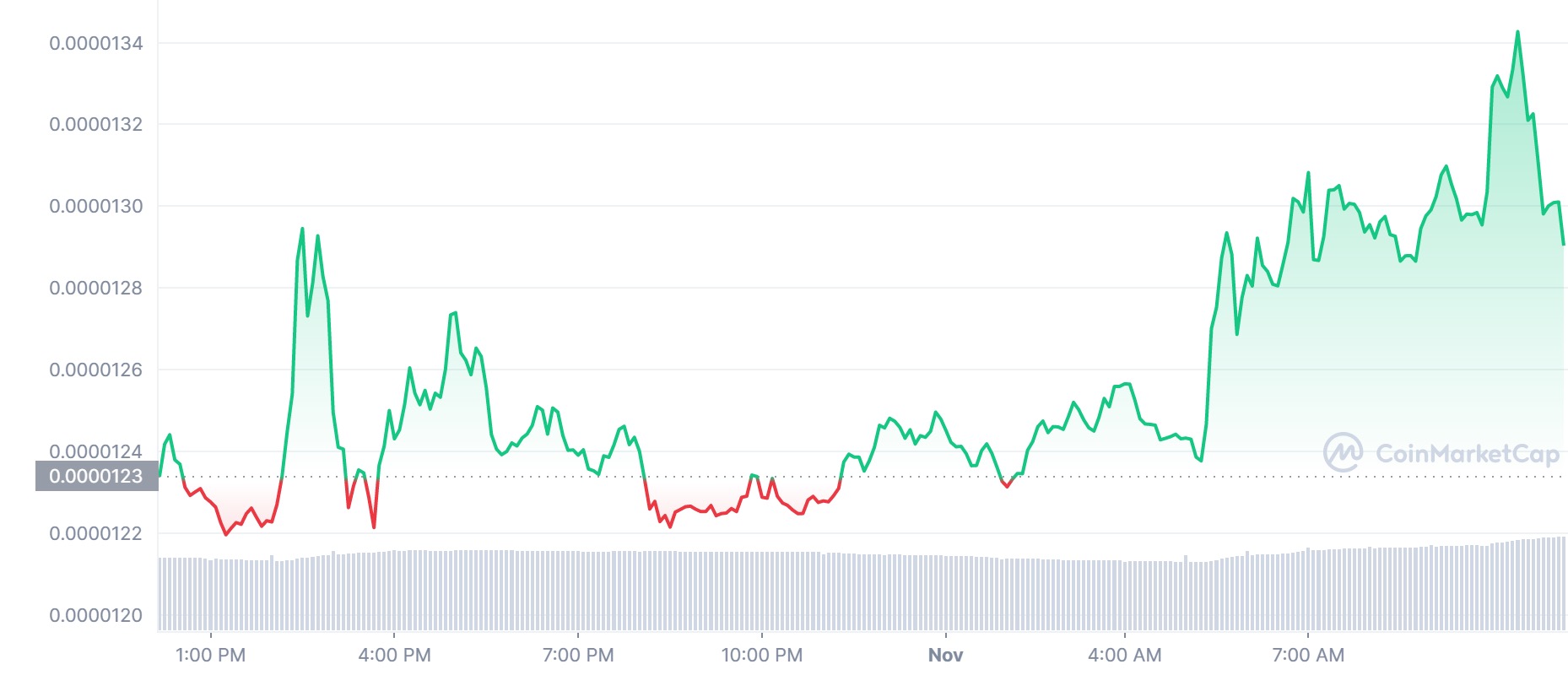 At press time, SHIB trades at $0.000013. The crypto asset has increased by 3.68% in the past 24 hours.
Like DOGE, SHIB has also been a direct beneficiary of the current drama surrounding Elon Musk and Twitter. While the billionaire has never voiced any support for the self-proclaimed "Dogecoin killer," DOGE price surges tend to spill over to other meme coins. And at the moment, SHIB appears to be enjoying this knock-on effect.
In terms of fundamentals, SHIB appears to have seen a recent surge in token burns. CryptoEye data shows that the coin's price surge led to a 1,720% surge in token burns on Monday, with 44 million asset units burned that day.
4. Impact Project (IMPT)
IMPT is one of the hottest new coins on the market. The asset, which is currently blitzing through its presale, has the potential to become the hottest thing in the crypto space.
IMPT powers the Impact Project, an Ethereum-based protocol that is at the forefront of using blockchain technology in the fight against climate change. The Impact Project facilitates carbon credit purchase and trading, allowing individuals to offset their carbon footprint using these credits easily. It also offers worldwide access to environmental sustainability projects, allowing investors to back them.
So far, the Impact Project has onboarded several of the world's brands as affiliates. These include Amazon, Netflix, Microsoft, and Macy's. These companies have committed a portion of their revenues and resources towards fighting climate change, with the Impact Project as their conduit.
With partnerships like these, it is no wonder that IMPT has continued to move quickly in its presale. The asset has already raised $12 million, and it is on the fast track to cross even more milestones before the end of the week.
IMPT's stage 1 presale price was $0.018, while the second stage is set at $0.023 per unit. In the third stage, IMPT will sell for $0.028.
5. Chain (XCN)
XCN is the native token for the Chain Protocol, a blockchain service that enables users to conduct financial transactions easily. Chain is looking to be the future of finance, and its XCN token powers all of its services.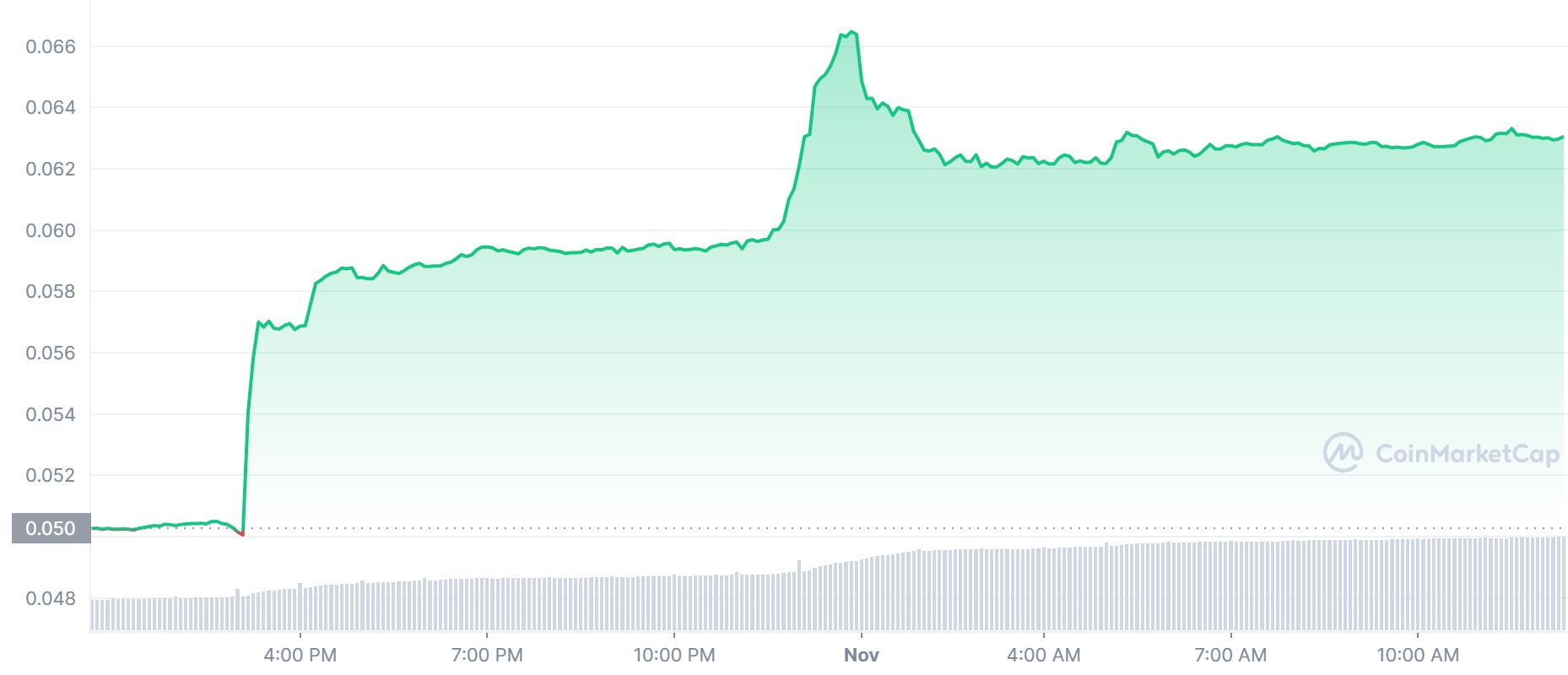 At press time, XCN trades at $0.063, an uptrend of 25.57% in the past 24 hours.
Chain doesn't have any fundamental news at the moment. However, XCN's performance — as well as the growing entrance of institutions into the crypto space — makes the asset a solid choice for value-seeking investors.
6. Calvaria (RIA)
RIA is the utility token for Calvaria: Duels of Eternity, a blockchain game that requires players to purchase non-fungible tokens (NFTs) representing trading cards. The objective is to build strategy-winning decks as players battle against each other.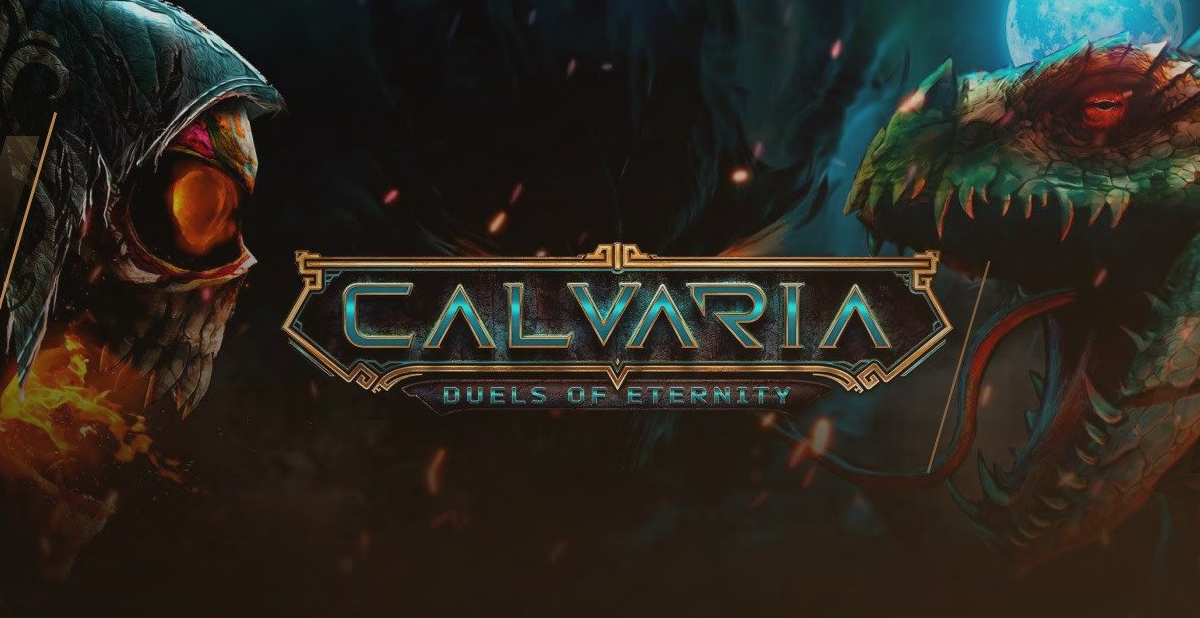 Like several other coins on this list, RIA is now available on presale. The asset is closing in on the $1 million mark, which is quite impressive considering that its presale is less than two weeks old.
With RIA, players in the Calvaria game can purchase and exchange trading card NFTs. Also, players who win battles will get rewarded with RIA. The asset also has intrinsic value; players can sell it to earn more tokens and use it to vote on platform proposals via the Calvaria decentralized autonomous organization (DAO).
At the start of its presale, RIA's price stood at $0.010. However, after a successful first stage, its price surged to $0.015. With ten stages of the presale available, RIA's price is expected to hit $0.055 before it launches on any centralized exchange. Investors who got in at the first presale stage can earn up to 450% returns before RIA launches on any exchange.
7. Binance Coin (BNB)
Rounding out the list is BNB, the largest exchange token in the market.
BNB is the ecosystem token for the Binance exchange. The token offers investors a broad range of benefits, including trade discounts.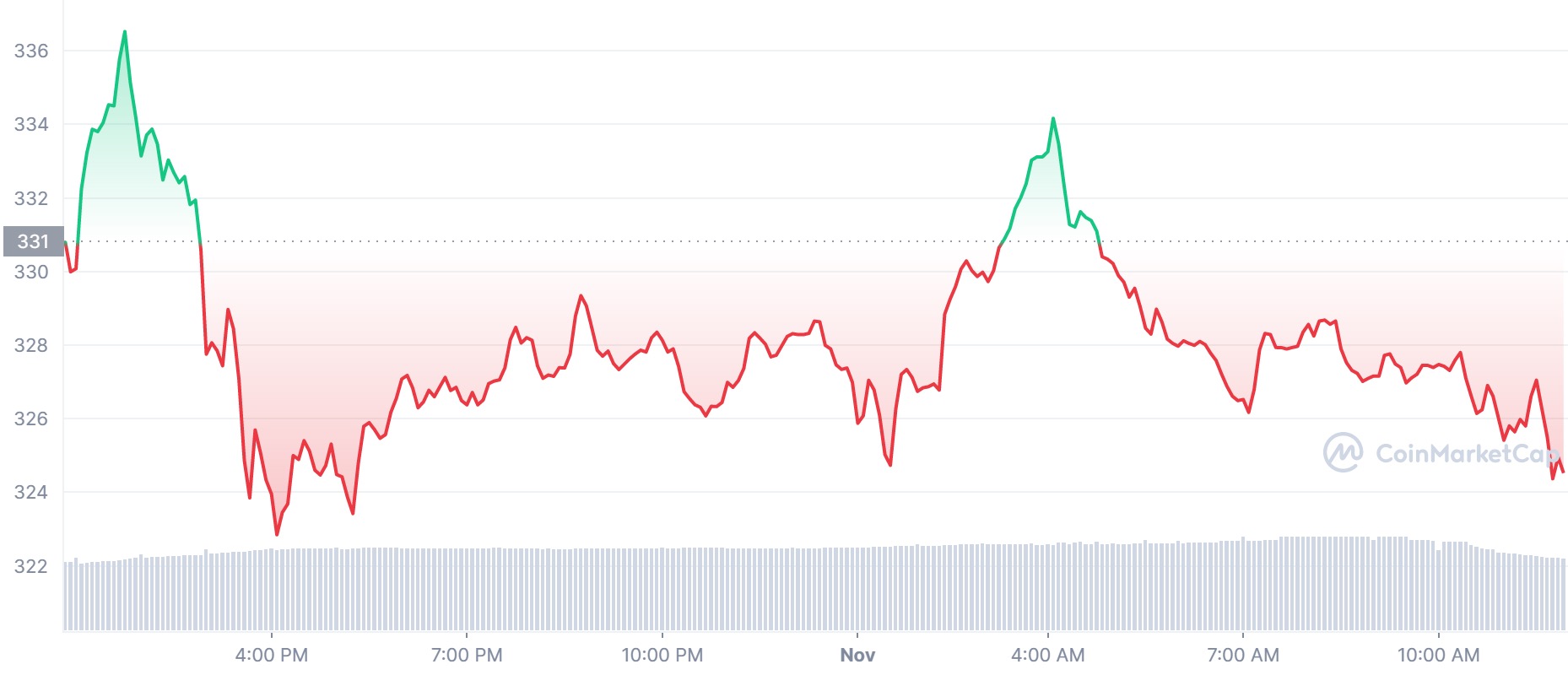 BNB is one of the most valuable coins in the market. It currently trades at $324.68, marking a downtrend of 1.86% in the past 24 hours.
BNB's prospects continue to grow as the Binance ecosystem expands. The exchange has continued to expand its core business, setting up a second office in the Republic of Ireland this week.
Binance has also expanded outside of its core offering. The company confirmed a $500 million commitment to help Elon Musk purchase Twitter last week, making it a big shareholder in the social media giant.
"We want to make sure that #crypto has a seat at the table when it comes to free speech," says @cz_binance on @binance investing $500M into @elonmusk's purchase of @twitter. "We want to help bring @twitter into Web3 when they're ready." pic.twitter.com/BmbWJqXvul

— Squawk Box (@SquawkCNBC) October 31, 2022
Conclusion
With a new month underway, the crypto market presents additional profitability opportunities for investors. One name that should be on the watchlist of investors is D2T.
Dash 2 Trade is looking to power the next wave of crypto investment in this market, and its D2T token is likely to be the next big thing in the industry. Its presale numbers already indicate massive investor interest, and this seems like a good time to buy.
Related News
Dash 2 Trade – High Potential Presale
Active Presale Live Now – dash2trade.com
Native Token of Crypto Signals Ecosystem
KYC Verified & Audited




Read More: Best Crypto on Low Prices to Buy Today 1 November – D2T, DOGE, SHIB, IMPT, XCN, RIA, BNB

Disclaimer:The information provided on this website does not constitute investment advice, financial advice, trading advice, or any other sort of advice and you should not treat any of the website's content as such. NewsOfBitcoin.com does not recommend that any cryptocurrency should be bought, sold, or held by you. Do conduct your own due diligence and consult your financial advisor before making any investment decisions.