Argo Blockchain Stock Sale | What You Need to Know About ARB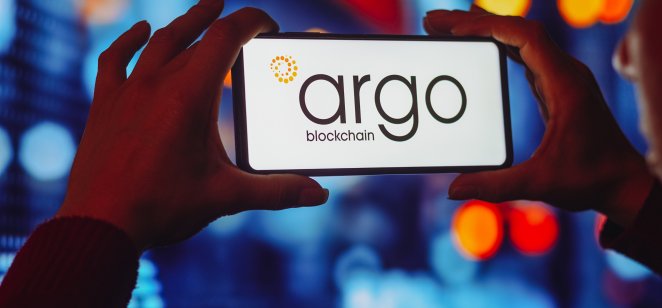 Bitcoin miner Argo Blockchain (ARB) is facing challenging business conditions in 2022 marked by high energy prices, rising interest rates and cryptocurrency market slump.
The company has sold its mining equipment, a 15% stake sale and bitcoin holdings to shore up its working capital until favourable economic conditions return.
With cryptocurrency miner Core Scientific becoming the latest to flag bankruptcy risks, investors have stayed clear of the bitcoin mining sector in 2022. 
As of 28 October 2022, Argo Blockchain's London-listed shares have slumped over 80% year-to-date. Will Argo Blockchain share price extend its sell-off? Here we take a look at what Argo Blockchain stock sale means for the price.
What is Agro Blockchain?
Argo Blockchain is a cryptocurrency mining company based in London, England. The company's primary listing is on the London Stock Exchange (LSE) under the ticker ARB.
In September 2021, Argo Blockchain listed its American depositary shares (ADS) on the Nasdaq Stock Exchange in the US under the ticker ARBKL.
Argo Blockchain started as a mining-as-a-service company before changing its strategy to own and operate its own mining facilities. The company's flagship mining facility is located in Texas, US. It owns two other mining facilities located in Canada.
A majority of the company's revenue is derived from transaction fees and cryptocurrency rewards generated via bitcoin (BTC) mining. Another crypto Argo Blockchain mines is proof-of-work (PoW) cryptocurrency Zcash.
What is your sentiment on ARBgb?
Vote to see Traders sentiment!
Argo Blockchain stock sale: Sector-wide slump
Argo Blockchain is not the only bitcoin miner to see its shares slump in 2022. The entire cryptocurrency mining sector is currently facing its toughest ordeal to date.
Bitcoin miners are in survival mode. They are actively cutting costs and curtailing mining operations in order to weather through this period of high electricity сosts and low cryptocurrency prices.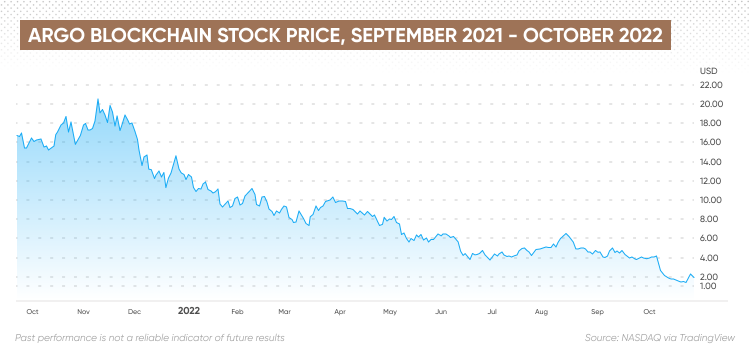 US-listed bitcoin miner Core Scientific was the latest company to flag liquidity concerns. The company said in a SEC filing in late-October 2022 that it will default on upcoming equipment and financing payments due in October and November.
Core Scientific added that it could "seek relief under the applicable bankruptcy or insolvency laws" as it expected "existing cash resources will be depleted by the end of 2022 or sooner".
It is not only high electricity prices and crypto bear market that is hurting the biggest bitcoin mining companies. The global bitcoin network hash rate, which measures the difficulty of mining bitcoin, rose to an all-time high in October 2022, which has squeezed mining profitability. 
Argo Blockchain reported that it mined less bitcoin in September compared to August due to an increase in average mining difficulty and on curtailed operations during periods of high electricity prices.
In recent months, Argo Blockchain has taken steps to shore up its balance sheet and to stem further decline in ARB stock price. 
According to a 7 October press release, the company amended its existing equipment financing agreement with an affiliate of New York Digital Investment Group. The new deal released an additional GBP5m ($5.7m) in cash and modified debt repayments deadlines.
Argo Blockchain also sold 3,400 new bitcoin mining Bitmain S19J Pro machines for £6m while signing a profit-sharing deal to host the sold mining equipment.
Additionally, Argo Blockchain raised £24m by selling 87 million shares at £0.276 to an undisclosed investor who will hold 15.46% of the company following the deal. The cryptocurrency miner said:
"The Company believes its working capital will be sufficient for its present requirements, that is for at least the next twelve months from the date of this announcement."
According to its interim result, Argo Blockchain's short-term loans amounted to about £43.9m, as of 30 June 2022. The company's total carrying amount of financial liabilities, which included its long-term loans and issued debt bonds, amounted to over £135.6m, as of 30 June 2022.
Argo Blockchain has been selling its bitcoin holdings to fund its liquidity in recent months. The company's bitcoin holdings fell to 512 BTC by the end of September 2022 from 1,953 BTC held at the end of June 2022.
Analyst expectations for Argo Blockchain shares  
Investment firm Jefferies said in a note dated 25 August:
"ARBK is on track to approximately double its mining capacity by the end of 2022 (from YE21), and we forecast revenue to increase ~40% from FY21 to FY23. In owning its own mining facilities, ARBK will be able to keep operating costs lower in the long run. In addition, ARBK's focus on sustainable energy and potential upside from DeFi investments differentiate the company from its peers."
Jefferies rated the stock buy and set an Argo Blockchain price target of £41 for its London-listed shares and of $4.93 for its US-listed shares.
Four out of seven analysts rated the stock "hold" while the rest rated it "sell" based on ratings compiled by MarketBeat as of 28 October. The consensus price target for US-listed Argo Blockchain shares was $10.50, varying from the high of $27 to the low of $3.
Note that analysts' predictions can be wrong. Forecasts shouldn't be used as a substitute for your own research. Always conduct your own due diligence before trading, looking at a wide range of analyst currency, latest news, technical and fundamental analysis. Remember, past performance does not guarantee future returns, and never trade money that you cannot afford to lose. 
FAQs
Is Argo Blockchain a buy or sell?

Four out of seven analysts rated the stock 'hold' while the rest rated it 'sell' based on ratings compiled by MarketBeat, as of 28 October. The consensus price target for US-listed Argo Blockchain shares was $10.50, varying from the high of $27 to the low of $3.
How many shares does Argo Blockchain have?

As of 28 October, Reuters data showed total outstanding shares of Argo Blockchain stood at 468.08 million.
Does Argo Blockchain pay dividends?

"We intend to retain earnings, if any, for use in our business and do not anticipate paying any cash dividends in the foreseeable future," the company said in an SEC filing.
Related reading


Read More: Argo Blockchain Stock Sale | What You Need to Know About ARB

Disclaimer:The information provided on this website does not constitute investment advice, financial advice, trading advice, or any other sort of advice and you should not treat any of the website's content as such. NewsOfBitcoin.com does not recommend that any cryptocurrency should be bought, sold, or held by you. Do conduct your own due diligence and consult your financial advisor before making any investment decisions.