AGIX and FET Crypto Price Predictions: Bull Run Ending | Bankless Times
SingularityNET's AGIX and Fetch.ai's FET once again emerged as some of the best-performing cryptocurrencies this week. AGIX soared to a high of $0.2585, which was about 468% from the lowest level in 2023. On the other hand, FET price jumped to a high of $0.2986, about 226% above the lowest point this year.
Why did SingularityNET and Fetch rise
Cryptocurrency prices remained in a tight range this week as last week's momentum faded. Bitcoin dropped from the year-to-date high of $21,400 to about $20,000. Similarly, Ethereum pulled back to $1,500.
This performance happened as concerns about a recession rose. The biggest news of the week was that major tech companies that are incredibly profitable like Microsoft, Alphabet, Salesforce, and Amazon announced large layoffs. Alphabet is laying off 12,000 people while Microsoft will shed over 10,000 workers.
Large American companies also published worrying financial results for the fourth quarter. Banks like Goldman Sachs, Citigroup, and Wells Fargo said that their profits dropped by more than 30%. In its statement, analysts at JP Morgan warned that the US was facing a mild recession.
There were several crypto-related stories as well. For example, FTX's new CEO said that he was looking to reboot the exchange. In another news, Nexo settled with the SEC without admitting liability. The company paid $45 million for offering lending products. Another important crypto news was that Genesis filed for bankruptcy.
There was no SingularityNET and Fetch.ai-related news this week. This implies that their bullish run was mostly because of momentum among investors who have embraced the fear of missing out (FOMO) approach.
FET price forecast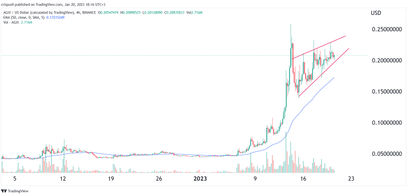 Fetch.ai crypto price continued making higher highs this week. But a closer look at its volume flows shows that the bullish momentum is fading. In most cases, falling volume is usually a sign that the original trend has run its course. It has also formed what looks like a shooting star candlestick.
The only positive thing I am seeing is that the bullish trend remains above the 50-day exponential moving average (EMA). Therefore, at this stage, it would be wise for buyers to start taking profit by scaling their positions. The bearish view will be canceled if the coin manages to move above this week's high of $0.29.
AGIX price prediction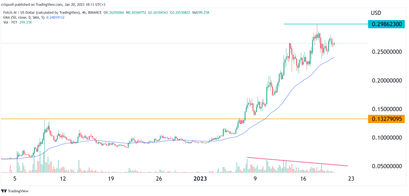 Like Fetch.ai, the AGIX price has been in a bullish trend recently. On the 4H chart, we see that the coin has started forming a rising wedge pattern that is shown in red. This is usually one of the most accurate bearish signals. At the same time, volume flows have started pulling back. Therefore, SingularityNET price will likely have a bearish breakout soon.


Read More: AGIX and FET Crypto Price Predictions: Bull Run Ending | Bankless Times

Disclaimer:The information provided on this website does not constitute investment advice, financial advice, trading advice, or any other sort of advice and you should not treat any of the website's content as such. NewsOfBitcoin.com does not recommend that any cryptocurrency should be bought, sold, or held by you. Do conduct your own due diligence and consult your financial advisor before making any investment decisions.